Jam And Journalism
---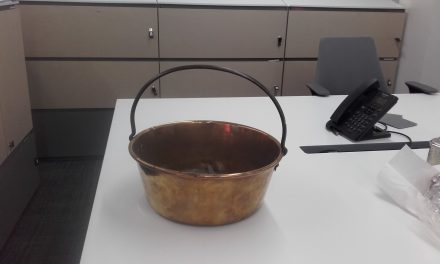 Last week Liz, our craft editor, and I were giving another talk, but this time we didn't have far to go at all – just to the large city churches a few hundred yards away.
With such a short distance to go, it seemed most practical just to walk, carrying various items with us. These included a knitted shawl, vintage tea caddies, tea towels for the group's kitchen and the centre piece – the "People's Friend" jelly pan.
This super copper receptacle bears  on its handle the words THE PEOPLE'S FRIEND and MY WEEKLY. I discovered that this was first prize in a competition from 1920. The bottom is blackened, and it's certainly made more than a pound or two of jam in its career.
It was handed down to a minister's wife from her great-aunt, and when she and her husband were due to retire to Orkney she wrote and offered it to us, saying she felt "it was time for it to come home".
Isn't that super?
The group of about 20 were welcoming and had lots of interesting questions for us afterwards, and we thoroughly enjoyed our time with them. But it was actually an incident that occurred on the way back to the office which has fixed this talk firmly in my mind. As we approached the entrance of the Overgate shopping mall a little elderly lady stopped me and struck up a conversation around her memories of her mother's identical pan. She was delighted to see the one I was carrying and asked where I'd got it from, perhaps in the hope that Argos, behind me, was stocking them.
I have no doubt that the sight of this venerable cooking pot cheered that lady's day, and she certainly cheered mine. I hope this photo stirs memories for one or two of you as well!