Knitting News: Sponsored Tea Tent at Loch Ness Knit Fest
---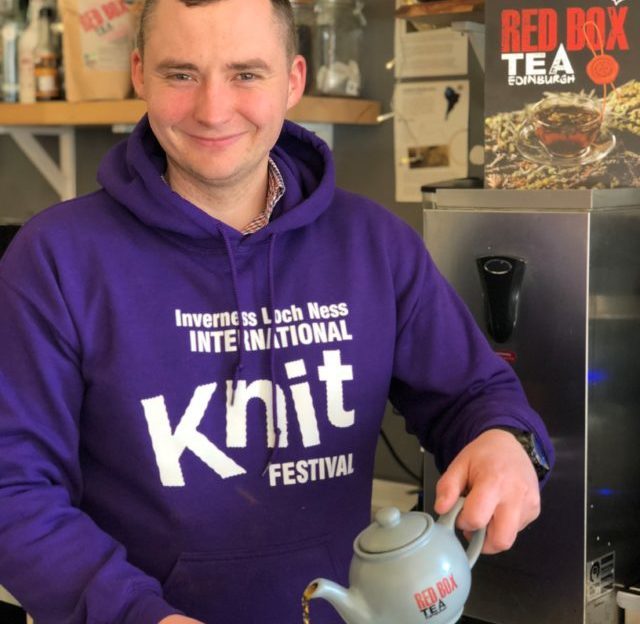 Nothing beats a good cuppa by your side when you're knitting, so this latest news is music to our ears!
We're already quite excited about the Loch Ness Knit Fest 2018, and now the organisers have given us even more reason to be excited.
Edinburgh based Red Box Coffee, have revealed to The People's Friend they will have a tea lounge, serving up specialty teas at the October festival. The aptly named "Knit and Natter Lounge" will provide a great space for knitters to relax with their favourite brew.
Red Box Coffee will be serving up over 20 different varieties of tea at Loch Ness Knit Fest, so knitters will be spoiled for choice. They can even try Scottish themed; Scottish raspberry and lavender, Whisky and Chocolate flavoured tea and Scottish Heather and Vanilla.
Comfort and tea!
There will be comfy seats and a living-room feel created with yarn-bombed furniture from New Start Highland and exclusive finishing touches from Skye Skyns the Scottish sheepskin specialists.
Founder of Red Box, Daniel Campbell, stated 'Our love for coffee and tea comes from its power to connect people all over the world, just like knitting! We named our company after the iconic red telephone box, a symbol of communication. It's great to be involved in Loch Ness Knit Fest 2018 and we're looking forward to seeing all those connections made over a good cup of Red Box tea at the event this year'.
Loch Ness Knit Fest 2018
Daniel was born in the area and knows the importance of crafting to the local area. In 2017 the local knitting festival attracted 1500 visitors to Inverness and these numbers are expected to significantly increase for the 2018 event. With 75% of festival goers attending from outwith the Highlands and Islands, it's a chance for the area to put itself firmly on the craft map.
Festival Director Cecilia Grigor mentioned, 'we wanted to add value to the festival ticket with something a bit different and are really pleased to have Daniel and Red Box backing the Knit and Natter Lounge. Red box offer a quality product with locally sourced ingredients so it's a real treat for our festival goers. We hope the tea will be a talking point for people as many come to our event looking to build their craft network and meet new people'.
The festival runs from October 19-21st and tickets are available here.  www.lochnessknitfest.com