Tom Yam Goong – Thai Hot and Sour Prawn Soup
---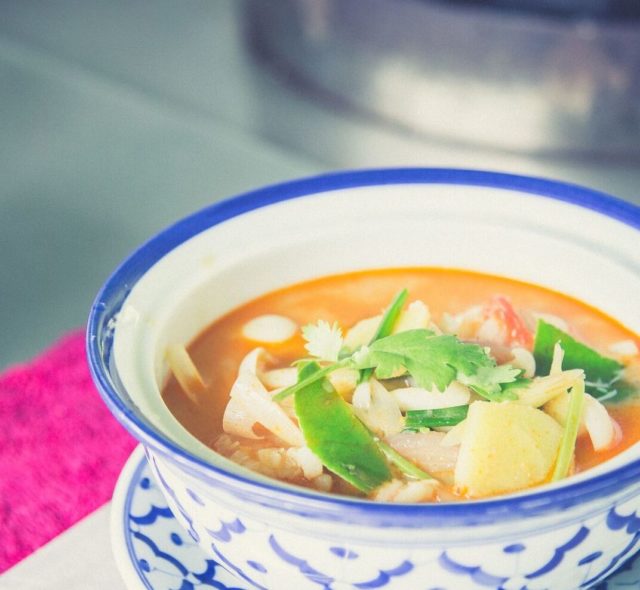 Photographer and Cook, Gavin Hill, has recently returned from Honeymoon in Thailand and shares his favourite Thai recipe.
This soup is one of the favourite dishes I learned to cook on a recent trip to Thailand. It is actually quite a simple and easy one to attempt.
The soup should be in equal parts salty, sour and spicy together. Balancing the ingredients to your own taste will achieve this. The 'Goong' refers to prawns but you can do this soup with chicken also, in which case you'd refer to it as 'Tom Yum Kai' instead.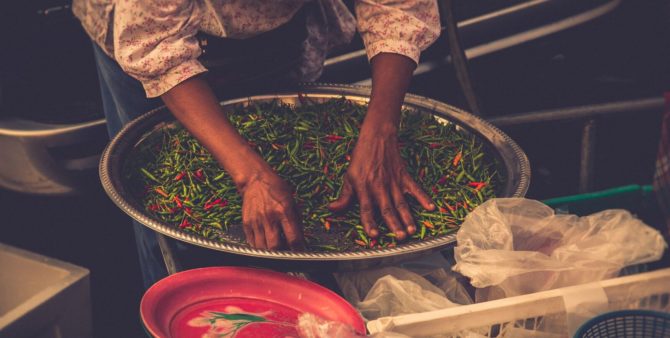 The following recipe makes enough for a serving for two people.
Ingredients
750mls good quality chicken stock
2 tablespoons of sliced galangal (you can buy fresh from Sainsbury's)
1 stalk of lemongrass, thinly sliced
2 Kaffir lime leaves (you can buy fresh from Sainsbury's)
2 Shallots peeled and crushed (use the back of a knife to squash them down – don't dice them)
100g Straw mushrooms (you can buy these in most supermarkets as well as Chinese specialist markets)
5 small birds eye chillis crushed not sliced – this way you get less fire but a more subtle warmth – reduce this number to reduce the spice or increase if not spicy to your taste
1 good quality tomato cut into wedges
150g of large king prawns, peeled and de-veined – use frozen for cheaper (defrost first) but best fresh
45mls of good quality fish sauce – available at most supermarkets but the Chinese market will have some really good quality stuff
5g standard white granulated sugar
60mls of freshly squeezed lime juice
10g Coriander leaves chopped coarsely
20g Spring onions, cut into large diagonal chunks – not too fine
10g Red Chilli paste – the Thai chefs use a brand that is hard to find in UK but this will do the job. It is used to give that deep red colour that makes this soup so well known. Top tip: Don't use red curry paste, it's not the same!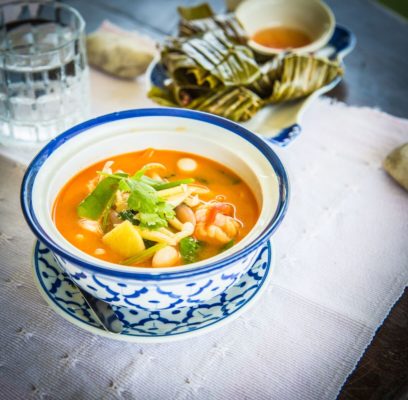 Method
You don't need a wok to cook this, although I used one when learning this dish, I reckon it will be ok to use a decent saucepan instead.
Heat your pan up to a medium heat then pour in your stock, bringing up to the boil.
Add your galangal, lemongrass, lime leaves, shallots, mushrooms, chillies and tomatoes and simmer for just a few minutes till the ingredients release some of their fragrance.
Next, add in your prawns and simmer till they change colour and stir in your chilli paste. This doesn't take long only a minute or so and be sure not to have your pan too hot, so as to boil them as prawns require a gentle heat. Overcooking these will make them chewy and tough.
Now reduce your heat and season your soup with the lime juice, fish sauce, and sugar, by adding half of each and adjusting to suit your own tastes. Stirring all the time.
Now remove from the heat and stir to release some of the heat. Taste again. Once you are happy with the balance of the sweet and sour and salty elements then you can ladle your soup into a nice bowl and sprinkle your spring onions and coriander to garnish.
Enjoy!
Look out for Gavin Hill, as he shares more dishes from his dreamy trip to Thailand.