Sleep In The Park
---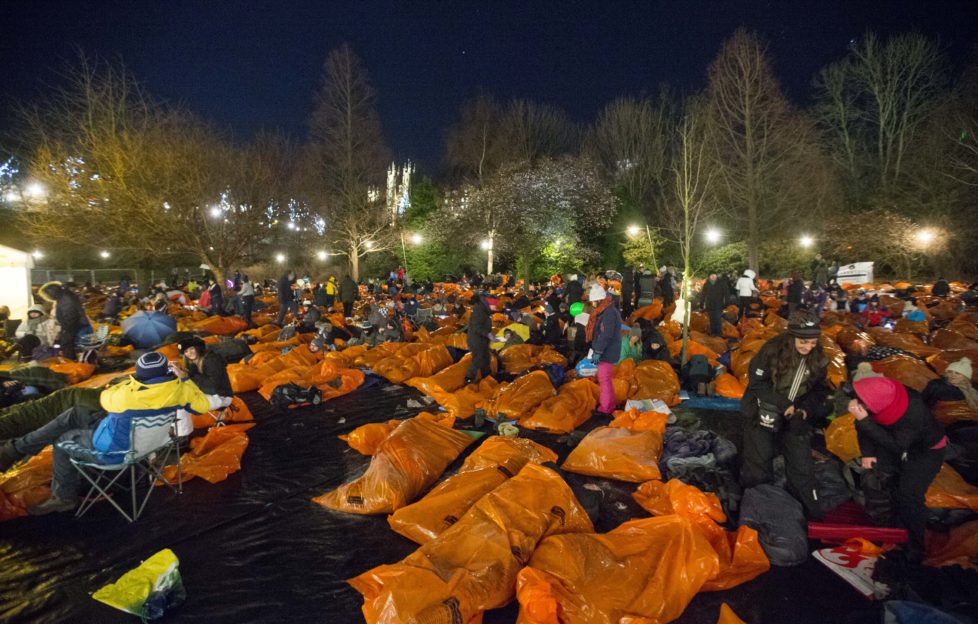 It's hard to believe it's over already!
Just this last weekend, seven of us from the "Friend" took part in an event called Sleep In The Park. Hundreds of people around Scotland travelled to the cities to bed down for the night in support of Social Bite, a charity that is doing its darnedest to bring an end to homelessness across the country. We featured them back in July 2017, and the success they've had in the short time they've been going is a really heartening testament to people's desire to help. Sometimes it just takes someone to show you what you can do.
Apart from the great music and camaraderie at the event, there were a number of short speeches from folk who had slept rough or were involved in helping people who had. Our night sleeping out in the cold was tough, but I think we all left with an even bigger admiration for the psychological battles many rough sleepers were fighting their way through. Being on the street was often just the tip of the iceberg for folk who'd suffered abuse, or lost everything through no fault of their own.
The Value Of Ear Plugs
Most of us were awake for almost every minute of the night. Well, when I say most of us, I'm excluding our Illustrations Ed, Sarah, who slept soundly in her two hats, two sleeping bags and duvet! The rest of us were just grateful that the tea and coffee tent stayed open, keeping up morale with hot drinks on tap all night. Apparently, someone in our group was snoring, but – having camped en masse before – I came armed with ear plugs and was totally unaware.
No matter how many clothes you wore, just being still in that kind of temperature eventually gets to you. The cold coming up from the ground was as troublesome as the cold in the air, and if you covered your face with something then your breath would just condense on the material and get cold, too!
Occasionally, people would wake and talk amongst themselves, but as everyone got tired the site calmed and quieted. As it wore on, the clouds cleared, then the dew settled and began to freeze over everything in the last few hours. As it was nearly midwinter, there was no dawn to wake up to, just a general stirring as everybody began to pack up in tired silence in the run up to 6 a.m.
The count on the night was for £3.2m having been raised, which really will make a big difference. Well done, everyone!