Rosamunde Pilcher
---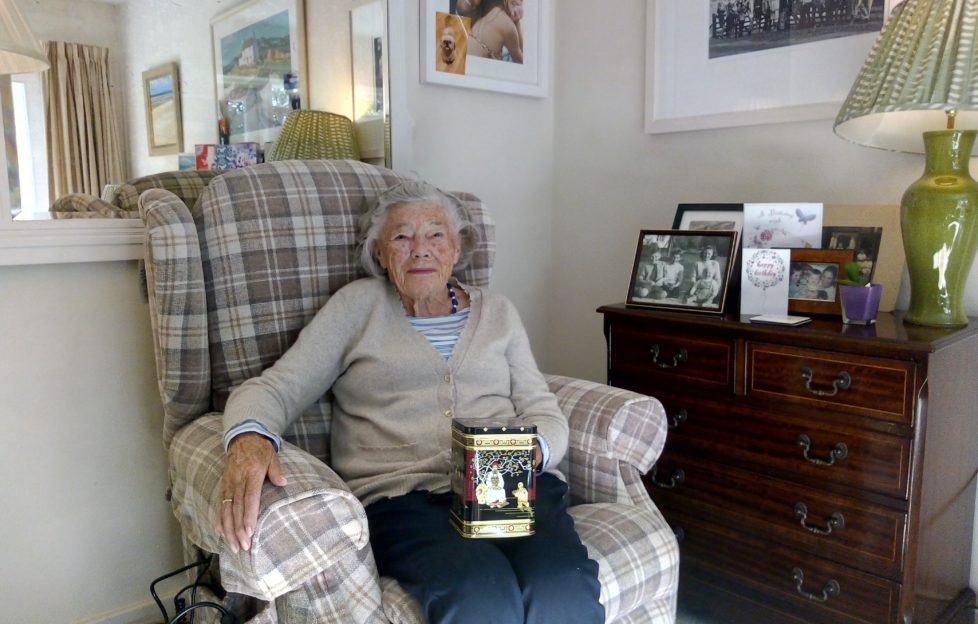 In our November 24 issue from last year, we interviewed the late Rosamunde Pilcher about her life and work, who passed away yesterday. As our way of saying farewell to the author who brought so much joy to so many readers, here's that interview again.
Born in a quiet Cornish village, Rosamunde Pilcher is an author whose name resonates with readers around the globe. Rosamunde belongs to a glamorous age of women's fiction, when authors were gentlewomen of pedigree and their lives were lived on either side of the Atlantic or at parties full of famous names, with hours and hours of hard work in between.
"I think I always thought it would be a rather nice thing to do as a small child. I started really trying to get into the professional stream while I was still at school!
"I made friends with a lovely lady in London who was a magazine editor. Awfully nice woman, she was. She said you haven't quite got the knack, yet, but send me everything that you write. Which was like having your own agent!"
Mills & Boon
Rosamunde's career took a substantial boost from a stint spent writing for the formative Mills & Boon brand, working with the son of company founder Charles Boon, Alan Boon. Alan was the man who oversaw the firm's rise to become such a big name in romantic fiction.
"The firm were very old-fashioned – but very courteous. They wore bowler hats.
"I spent about nine years writing from them, I think. One took a lot of stick from people, but so what? Sometimes you need to be a bit more modest in your ambitions!"
The market for Mills & Boon's romances was always strong, especially as they were unique in championing the heroine's viewpoint in their fiction. But the rules for writing for them were well-defined, as they still are today.
"You could do this and that, but not the other. But it was working and being paid for – it was a beginning. I liked working with them. They were very straight."
The New York Years
Rosamunde moved on from them after a busy decade, and before long moved out to New York, where writing was a more lucrative profession.
"If you sell something in the States you get a lot more dollars than you did pounds. Their 'papers had huge subscriptions, so the royalties were in the thousands not the hundreds. It was a very exciting time in my career."
Rosamunde's work would appear in American publications like the Ladies' Home Journal which, like the "Friend", was a prominent publisher of serialised fiction.
Writing as Jane Fraser, Rosamunde penned ten novels for the brand, with the last being "The Keeper's House" in 1963.
Independent writing then beckoned, with Rosamunde publishing under her own name. Despite striking out alone, in those days there was no major publicity tours or social media promotions expected of authors.
"Nothing was asked of you at all, except that you produce a novel."
The Success Of "The Shell Seekers"
Rosamunde's writing would continue apace through the 1960s and 1970s. She became a household name in 1987 with her international bestseller "The Shell Seekers", the success of which she attributes to a different kind of social media.
"It caused a stir, that one. It really made people buy my books, and read my books – and it was all done through the private booksellers, who were mostly retired ladies!
"There was no big Barnes & Noble campaign or anything. It did well through people coming into those shops and asking if they had anything they could suggest reading. That was a huge part of its success."
In 1989 the book would be turned into a TV movie starring Angela Lansbury, and so a tradition began of converting Rosamunde's work for the small screen. How has she felt about those adaptations?
"They're never going to be what you think they're going to be, that's one thing. You just have to be very philosophical about it all."
Big In Germany
Much of the filming was done on location in Cornwall, which would be the first of many instances cameras would come to the west country in Rosamunde's name. She was on the verge of a popularity explosion in Germany.
"A company called Frankfurter Film Productions, based in Cologne, bought all the old short stories and made one-hour films out of them. They've been hugely successful – almost embarrassingly so!"
Shown on German channel ZDF, they have been so popular as to create a boom in the tourism market that won the channel and Rosamunde a British Tourism Award in 2002.
"It's astonishing. Fans can get a Lufthansa plane for a 'Rosamunde Pilcher' tour. They arrive at Newquay and get on a Rosamunde Pilcher bus – with my name on the side. It's bizarre.
"But not only does it bring in cash for me and my family, it has genuinely made a huge difference to the economy of Cornwall.
"It has changed the situation down there. They've always had a fabulous tourism industry, but it's enabled cafes and hotels to stay open. The Germans always use local people when they can, so it very much contributes to the local economy."
The Magic Of Cornwall
Having married a painter, Rosamunde's mother moved with him to St Ives – famous for its light – which is why she was born in the area. The family still has strong connections – her son is a farmer in the region, and she visits when she can.
Though having moved away at an early age, why does Rosamunde continue to set her novels in the area? Is it from a sense of nostalgia or is there something about the landscape that adds to the writing?
"For me, it's rather like revisiting somewhere – like I'm going there if I'm writing about it. It makes going down still exciting because it's creative.
"But it is rather magical. There is something about it that is very restoring.
Even when simply talking about visiting the county of her birth, you can hear the romance writer coming out once again.
"I don't get down as often these days – I'm very old, you know. I have to go with someone, because of my health, which is terribly boring. But I love going back. I love walking on those lovely beaches."