11 Ladysmile Lane – Episode 63
---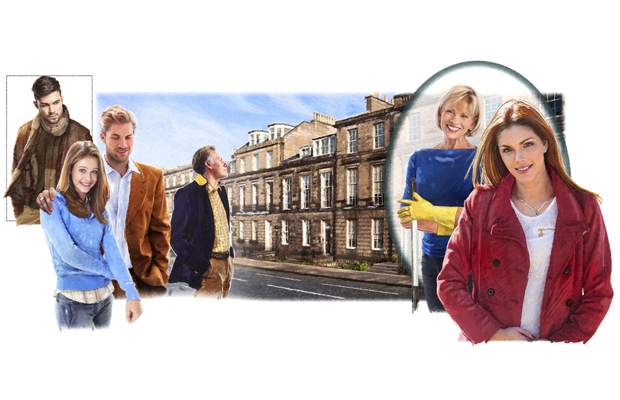 Illustrated by Mandy Dixon.
"Is that . . .?"
"It is. I think we're being spied on!"
Getting up from the table outside the Station Hotel – popular on warm evenings, with its pretty garden – Alex waved flamboyantly at Amy and Ewan, who were now hurrying along the road, heads down.
"You told her we were coming here?"
"No option. She was thrilled about it and wanted to know everything. Where I was taking you, what I was going to wear . . ."
"I like the blue shirt," Georgia said. "It matches your eyes."
In the rays of the setting sun he looked relaxed and happy – just as she felt.
"Maybe they just happened to be passing," she suggested as Amy and Ewan finally disappeared round a corner. "Just, you know, taking a stroll."
"Their intention was to go and see about joining that new leisure centre, right at the other side of town, and they only had an hour or so because Ewan's got to go off to do some surveillance – proper surveillance! – with Harrison later. No, she wanted to come by and reassure herself things were going OK and that I wasn't putting my foot in it!"
Georgia laughed.
"Do you think it's because of the hours Harrison keeps that he hasn't got anyone? It can't be conducive to a relationship."
"On the other hand, it could be just because of Harrison being Harrison!" Alex laughed, too. "Ewan seems to be managing, after all. But I'm more interested in talking about us. I still don't get it – all that you were saying earlier about omens."
"It was what you said – about how you thought Number Eleven would make a lovely house. You're the only person who's ever agreed with me on that."
He laughed.
"So, are you going to turn it into a house? It would mean you would have to throw all your tenants out, remember. Who else would have us? You know no-one would take on both Eloise and Brett!"
"Maybe they would be better apart. All they do is argue!"
"That's just the way of their particular relationship. They would pine for one another."
"You reckon?" Georgia smiled. "But you may have a point. Everyone there has become very special to me. Almost like family."
"That would seem to answer the question, then."
Alex kissed her.
And when she was able to think again, Georgia had to agree with him.
The End.