Echoes From The Past – Episode 20
---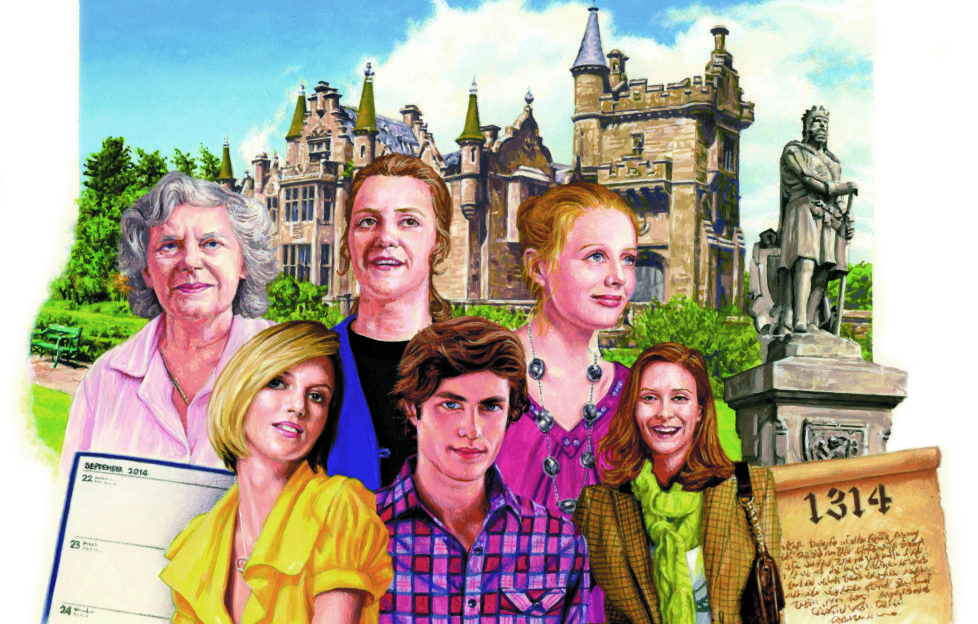 Illustration by Andy Walker
"My husband does," Anne said. "He could bore for Europe on the subject of Dunskillen. He could also bore on the Battle of Bannockburn, in which he claims that Dunskillen played a major part. It doesn't appear in any of the text books on the subject, but Lewis is convinced."
"That would certainly add a new dimension to a mere decoration," Holly said. "How fascinating."
"You must meet my husband," Anne replied, a touch dryly. And as if on cue, a figure appeared at the top of the stairs, saying, "Any chance of a cup of tea?"
It was over tea and shortbread in the castle kitchen that Holly learned more of the castle's history, and indeed her own. Lewis Hepburn's scholarly face lit up when he heard her name.
"Seagrave? My goodness, how amazing. I see you spell it with an 'A,' but there was a Segrave without an 'A' at the Battle of Bannockburn."
Holly was astonished.
"Really?"
"I'm not absolutely certain what side he was on, but I could look it up."
"Well, I certainly didn't expect that! Tell me, were there any from Dunskillen castle who fought in the battle? Or is it not recorded?"
"There was Dunskillen himself, but things are a bit hazy about him. The general feeling is that he did not distinguish himself. Whatever he did, it seems that his castle did not remain in his hands for long after the battle. We're not sure, either, who took it over. The name remained but the man went. There is a huge gap between the fourteenth century and the eighteenth, when it was occupied by a family called Jamieson. My grandfather bought it from the Jamiesons before the war, and we've been here ever since. But we're mere newcomers, really."
"It's fascinating," Holly said, turning to Anne. "Isn't it?"
"Well, it is and it isn't," Anne said brightly. "Perhaps the family hear rather too much about the castle's history, though it is interesting and one loves to be part of a continuing story."
"It's certainly given me lots of ideas," Holly said. "I was thinking of a hanging possibly with a bit of local scenery. Now I've got battles and ancestors and all sorts to think about." She reached out quickly to Anne. "If you're still interested, of course."
Anne smiled.
"I certainly am. I really like the work you've shown me."
Dan, who had been hovering in the background, cleared his throat.
"If you mention money, Daniel," his mother said severely, "I may have to kill you. Holly and I are both sensible women. Allow us to make a sensible decision."
It was as Holly got up to leave, promising to return with some designs and costings, that Daniel offered to show her round the outside of the castle.
"It's quite ancient in bits," he said. "Most of it is Victorian, but there is a mediaeval section still standing."
Holly took her farewells of Anne and Lewis, and followed Daniel round the outside. She admired the turrets and crenellations that gave the place an enchanting look, but the truly ancient bit was just a plain wall, as far as she could see. It was also overshadowed by an ancient beech that had rooted several yards away from the building, and now spread its canopy as a kind of protection.
"What a beauty," she said. "In fact, the whole place is lovely. You must be very attached to it."
"I am." Dan smiled. "I am."