Runner Bean Soup
---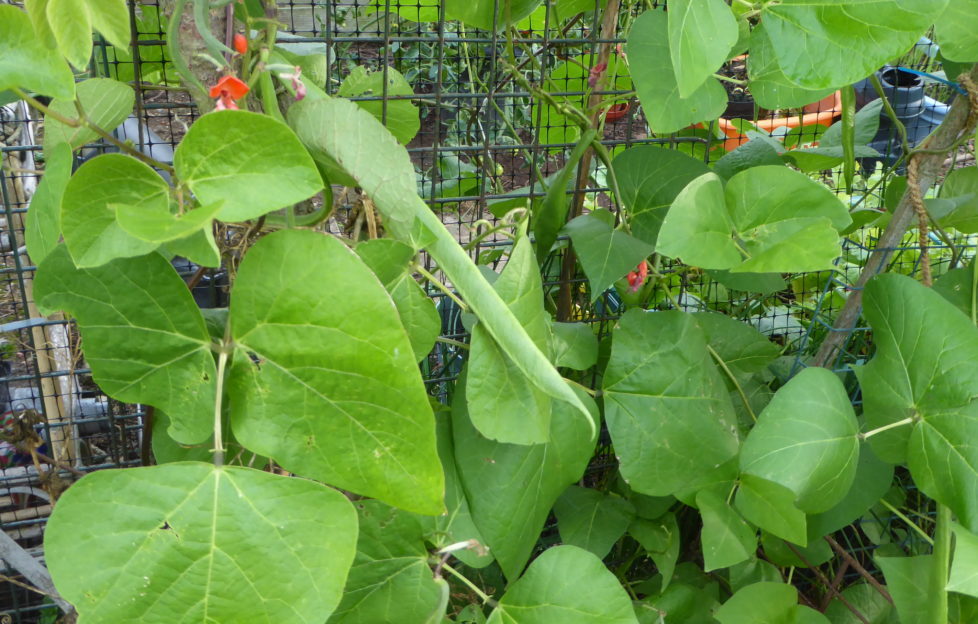 Photograph by Shirley Blair.
500g of runner beans
1 large onion
1 large carrot
700ml of vegetable or chicken stock
20g butter salt and pepper to taste
We often also add a finely chopped chilli pepper because we grow them, too, but it's strictly optional, according to your taste
It's runner bean season again, which means runner bean soup for us!
Mr Fiction Ed has been very busy watering the vegetable plot over the last few weeks to try to ensure a luscious harvest.
The good news is, it worked, and we're now cropping beans almost every evening for dinner. With his homegrown spuds, they're hard to beat – tender, flavoursome, and needing nothing more than a wee dot of butter. But that's the tender ones we pick when they're still quite small and slim.
Beans are funny though. They lurk. Hide in plain sight. Seriously. We can have picked all over the cane wigwams, and yet we'll sit down for a minute on a garden chair and spot a dozen more. It's become quite a game, spotting them and competing to see who finds the longest.
Sometimes we miss them altogether until they've become much sturdier and tougher. When they're like that they're best chopped up in soup – with our home-grown onions. *buffs nails on chest* So here's our recipe.
Runner Bean Soup Method
Top and tail the beans and remove the stringy sides – not necessary if they're slim and tender. Chop into one-inch long pieces. Finely chop the onion. Finely chop the carrot.
Heat the butter in a pan and add the vegetables. Toss and cook until they begin to soften and the carrot is translucent, stirring constantly.
Add the stock, cover the pan and simmer for about 30 minutes or until the vegetables are soft.
Whizz in a blender, or use a handheld, and season to taste.
It freezes well, by the way. These four tubs will be frozen for winter lunchtimes.
For more of our delicious recipes, click here.
If you're thinking about taking on allotment, but you're not quite sure, take a look at these seven good reasons.
They did help us win World War II, after all.