Alfred's Emporium – Episode 21
---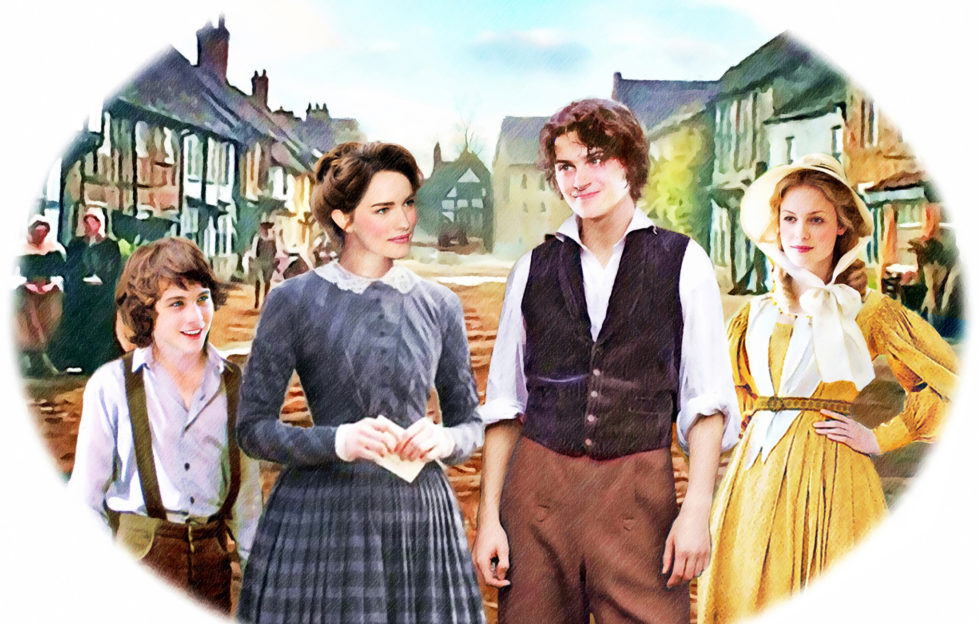 Illustration by Ruth Blair
As Lissip got into her stride, Alfred glanced back. His shop was one of a mix of enterprises, cottages and empty structures that made up the main street.
Alfred waved to two men setting up a ladder at the front façade of the largest, the assembly building.
People from miles about had attended its elegant gatherings with music and dancing. But in 1856, before Alfred was born, the doors had closed and for the last three decades it had been sleeping behind peeling paintwork and boarded-up windows.
Perhaps another tile had fallen off. Mr Darrowby, the odd-job man, and his son, George, made a fair living from the neglect that pervaded Datcherford.
Alfred reached Cross Roads House and left the cart, which would have clattered on the path.
He knew Mrs Jameson took tea at four precisely and an hour later retired to her room to rest.
He walked round to the rear and knocked at the kitchen door. Footsteps could be heard on the slate floor and as the door opened a smile lit his face.
"Hello, Rose," he said.
Alfred had no clear plan of what he was going to say, but the pleasure in Rose's eyes on seeing him was ample reward.
"Mrs Jameson went up early," she whispered. "She might rise any time. Is there a delivery to be made?"
"No," Alfred said. "I came because of yesterday. It appeared you were in trouble. I wanted to help."
Rose stared at him for a moment.
"You've driven all this way just to help me?" she asked in astonishment.
"Not just that," Alfred replied. "I was concerned. Mrs Jameson can be fierce and I thought you might need someone on your side."
"That is so kind –" she began, interrupted by a clatter in the kitchen. "I can't talk here. Shall we go into the garden?"
They strolled into the kitchen garden where the wall and the fruit trees shaded them from view.
"How are you really, Rose?" he asked.
"I'm well, Alfred," she replied. "Mrs Jameson was angry yesterday, but she hasn't dismissed me. I think I owe my good fortune to her reluctance to find a replacement."
"I wouldn't call working for Mrs Jameson good fortune," Alfred returned with a wry grin.
Rose shrugged.
"I wish I could offer you some tea after your long ride, Alfred, but . . ."
They both glanced back at the house.
"It's so unfair," he said with a frown. "Why can't you be allowed visitors? Mrs Jameson might pay you well, but you don't have to stay here. I could help you find a position."
Rose shook her head.
"No, Alfred. I would not impose on you."
"Can you tell me why you stay? I ask because I care. Rose, don't cry. I'm sorry, I shouldn't have interfered."
Rose dabbed her eyes.
"Don't be sorry," she said. "I'm crying because it's been so long since someone said they cared about me."
"Well, I should be more sensitive."
Even through her tears, Rose managed a smile.
"Very well, Alfred, I'll share my miserable story if you want to hear it."