Alfred's Emporium – Episode 01
---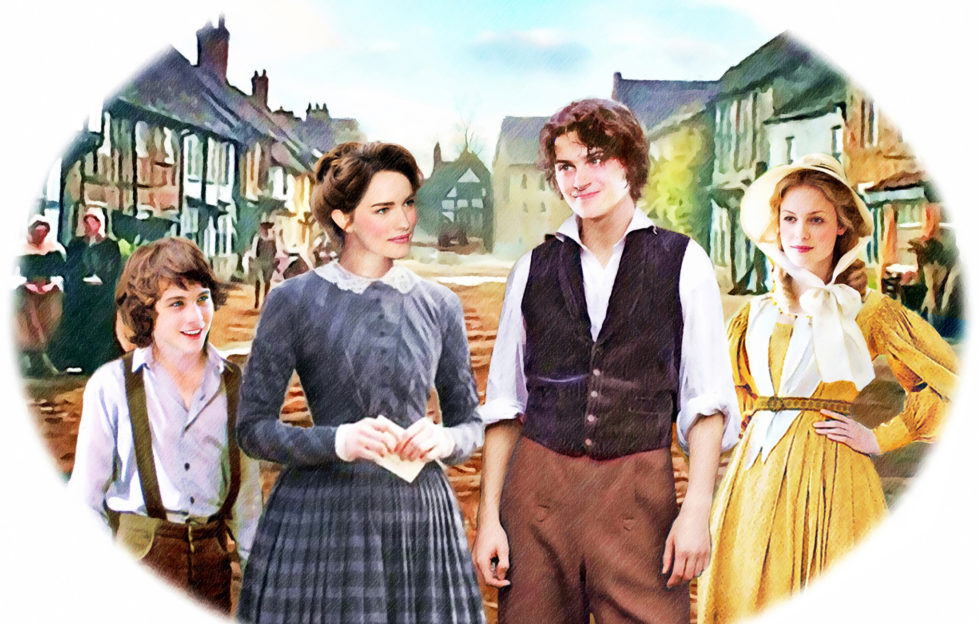 Illustration by Ruth Blair
"Mind the step, miss."
"Thank you," Rose replied, taking the coachman's arm and climbing down.
She watched him lift out her heavy trunk and place it on the grass verge.
"Are you sure this is where you want to be left?" he asked. "There's neither house nor farm nearby."
Rose looked at the acres of flat fields and hedgerows, all whitened by a late spring frost.
Save for some early returning birds, there was no living thing in sight.
"Yes," she replied. "My employer said I'd be met here at one o'clock."
"I don't see anybody," the coachman pointed out. "And it's well past one."
"Someone will come," she answered, trying to suppress her growing unease.
"I hope so. Datcherford is nearly two miles away."
"I'm going to Cross Roads House, not to Datcherford."
"Mrs Jameson's place? That's two miles in the other direction. What will you do if no-one comes?"
Rose had no idea.
Mrs Jameson's instructions had been so precise, she thought. Could she have forgotten to send someone to meet her?
She might walk – two miles was no great distance – but she couldn't drag her trunk so far.
The coachman was clearly reluctant to leave a young woman stranded, but time was passing and the post coach could not wait.
"Look!" Rose cried with relief. "Someone's coming."
A cart was turning into the lane some 50 yards from where they stood.
"I recognise the driver," the coachman said. "He's the groundsman at Cross Roads House. I'll leave you then, miss. Good day."
Rose stood back as the coach pulled away and the cart drew near. The driver, a slight man, peered at her.
"Are you the party named Bryson?" he asked curtly. "For Cross Roads House?"
"Yes," she replied. "I'm Rose Bryson. I was afraid no-one was coming."
"I has other things to do," he muttered. "I suppose you want help with that trunk."
"If you please," Rose answered, too relieved to mind his rudeness. "You didn't say your name."
"Don't please me when I has extra work," was the sullen response. "My tasks won't get done if I'm driving about fetching folk."
With much huffing, he hoisted her trunk on to the cart, leaving Rose to pull herself up beside him.
She clung on as they lurched forward.
"Biggins," he said after a few yards.
"Thank you, Mr Biggins," Rose said, determined to be courteous. "So you work for Mrs Jameson?"
"Aye."
"Does she have a family at Cross Roads House?"
"No," he replied.
"I'm coming as companion to Mrs Jameson," Rose persisted. "I applied to her advertisement by post. She engaged me to start straightaway, so I suppose the last occupant left quite suddenly."
"They all did," he replied. "Six or seven these past three years."
Biggins had a crafty look about him. Rose knew he wanted her to ask more, but she wouldn't give him that satisfaction. This news had affected her, though.
Have I made an awful mistake, she wondered.