Vegan Lasagne
---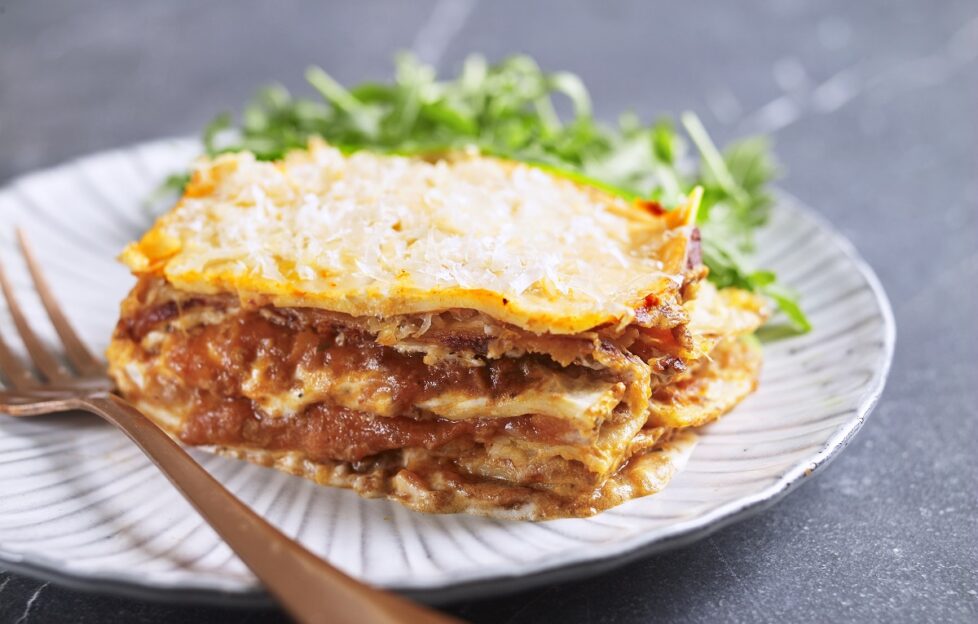 Photograph courtesy of Sacla.
Ingredients
1 jar Sacla' Vegan Bolognese Sauce
1 jar Sacla' Vegan White Sauce
1 x 250 g pack vegan lasagne sheets (approx 14 sheets)
40 g (1½ oz) vegan parmesan for topping, grated finely
To Serve: rocket salad.
Recipe courtesy of Sacla.
Vegan lasgane, you say?
Translating the meaty, cheesy favourite to a delicious plant-based equivalent is super-easy with this yummy recipe!
It's perfect for anyone adopting a planetary health diet. But it's just as good for those of us simply looking for a tasty change.
This recipe serves 4.
Method:
Pre-heat the oven to 200 deg C., 400 deg. F., Gas Mark 6.
Spoon a little Sacla' Vegan Bolognese Sauce in the bottom of an oven-proof dish then place a layer of lasagne sheets on top, covering the sauce. Layer Sacla' Vegan White sauce over the lasagne sheets, add another layer of Bolognese and top with lasagne sheets. Repeat until you're out of sheets.
Top the final layer of lasagne sheets with White Sauce and sprinkle over the vegan Parmesan to cover.
Bake in the pre-heated oven for 25 to 30 minutes until golden and bubbling.
Remove from the oven and slice into four. Serve with a lightly dressed rocket salad.
Don't worry if you've made too much, because your vegan lasagne will freeze easily.
Just cool completely, and wrap in cling film then foil. Give it a label, and freeze for up to 3 months.
When you want to dig in again, defrost it in the fridge overnight and cook in a hot oven covered in foil, or reheat portions in the microwave.
---
We have lots more plant-based recipes for you to try. Take a look at this tasty Vegan Sausage Bake or Smoky Black Bean Casserole.  Delicious for those cold, autumn evenings!
And remember, we publish a whole host of recipes every week in "The People's Friend". Subscribe today to make sure you don't miss another issue.
We also have a digital subscription available, which allows you to download every issue straight to your desktop, laptop, tablet or phone. Click here for more information, or to sign up.