Very Healthy Vegan Sausage Bake
---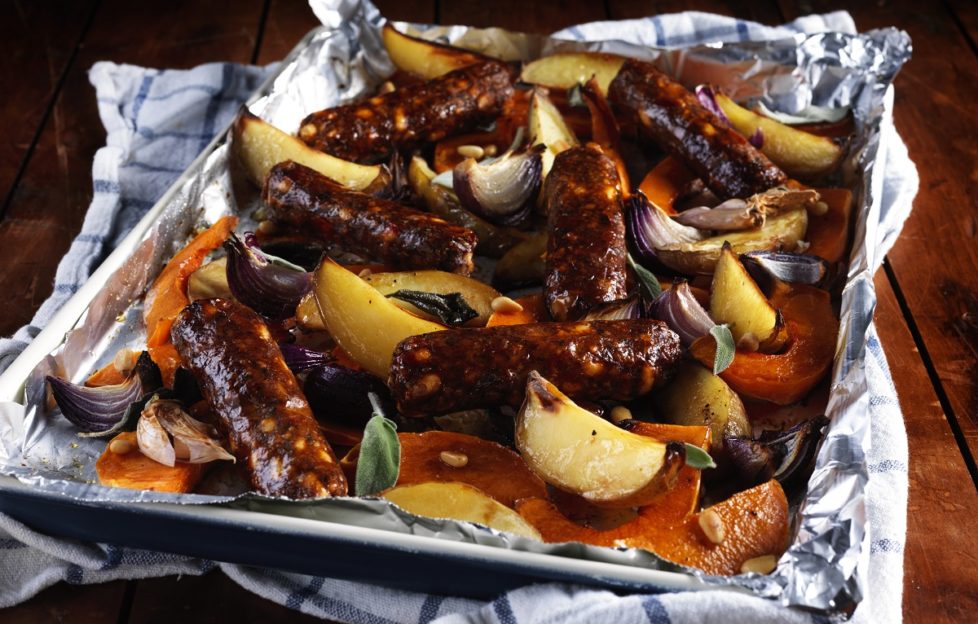 image courtesy of Bacofoil.
Ingredients
2 medium potatoes, scrubbed
3 cloves garlic, left whole and unpeeled
1 red onion, cut into wedges
½ butternut squash, peeled and cut into chunky slices
Black pepper, to taste
1 pack of 6 vegan sausages
8 fresh sage leaves
2 tbs pine nuts
For the Dressing:
1 tbs olive oil
½ tbs agave syrup
½ tbs balsamic vinegar
To Serve: salad or green vegetables of choice.
Recipe courtesy of Bacofoil.
More and more of us are choosing meat-free alternative meals these days, thanks to the health and economic benefits they bring.
There are even arguments to suggest that eating vegan (or vegetarian) is better for the planet, due to the environmental impacts of large-scale farming.
With that in mind, the "Friend" invites you to enjoy this very healthy vegan sausage bake!
Method:
Pre-heat the oven to 200 deg. C., 400 deg. F., Gas Mark 6. Line a large shallow baking tray with Bacofoil® The Non-Stick Kitchen Foil (this ensures the sausages don't stick).
Cut the potatoes into wedges then place in a large bowl of cold water and leave for 10 minutes. Lift out and dry with kitchen paper.
While the potatoes are soaking, smash the garlic once with the side of a broad knife and leave the skin on. Place the potatoes, onion and squash on to the prepared tray and season with black pepper. Roast in the pre-heated oven for 20 minutes.
Meanwhile, make the dressing. Whisk together the oil, agave syrup and vinegar in a small bowl and set aside.
Take the tray out of the oven and turn the vegetables. Nestle in the garlic, sausages and sage leaves. Return to the oven for 10 to 15 minutes, or the recommended cooking time minus 10 minutes.
When the sausages have 10 minutes left to cook, drizzle the dressing over everything in the tray and sprinkle over the pine nuts. Return to the oven for the final 10 minutes until everything is cooked and golden. Discard the garlic then take the whole tray to the table. Serve with some crispy salad or seasonal green vegetables.
For more delicious recipes from the "Friend", click here.
Fans of the vegan sausage bake might want to try this hearty tuscan bean stew!
Remember, we feature a whole host of recipes in every issue of our weekly magazine, and in our Specials. Make sure not to miss your next "Friend" fix by subscribing today. 
New subscribers will receive a free 150th Anniversary tea caddy.