Vegan Smoky Black Bean Casserole
---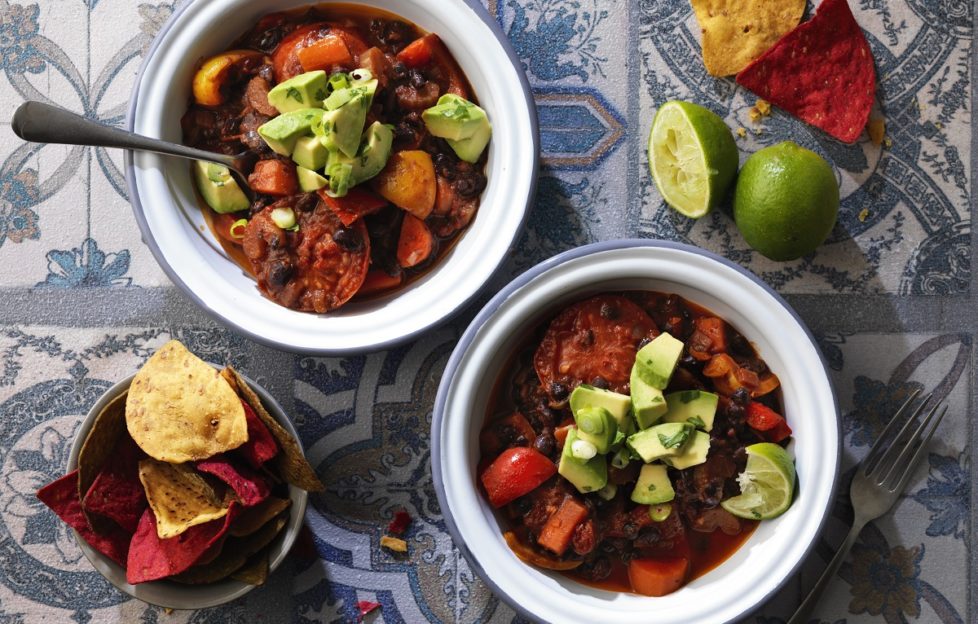 Image courtesy of Lyons Coffee.
Ingredients
2 Lyons Coffee Bags No 3
2 tsp coconut, vegetable or olive oil
1 onion, diced
2 carrots, peeled and chopped roughly
2 cloves garlic, chopped finely
1 small stick celery, sliced
½ red pepper, chopped roughly
½ yellow pepper, chopped roughly
1 tsp ground cumin
1 tbs chipotle chilli paste
2 tsp muscovado sugar
1 x 400 g can chopped tomatoes
2 x 400 g cans black beans in water, drained
1 vegan vegetable stock cube
Freshly ground black pepper, to taste
3 vine tomatoes, halved horizontally
1 avocado, peeled and diced
1 lime, cut into wedges
To Serve: cooked wholegrain rice or quinoa; few sprigs coriander; vegan natural yoghurt (optional).
Recipe and image courtesy of Lyons Coffee.
This Smoky Black Bean Casserole recipe isn't only perfect for vegans . . . it's also perfect for the coffee lovers out there!
We hope you enjoy.
Method:
Pour 150 ml (¼ pt) boiling water into a measuring jug then add the Lyons Coffee Bags and stir. Leave to cool, gently squashing the
bags every now and then.
Heat the oil in a large saucepan and fry the onion and carrots over a medium heat for 3 to 4 minutes. Add the garlic, celery and peppers and fry for another 2 minutes.
Add the cumin, chipotle paste, sugar, chopped tomatoes and black beans. Crumble in the stock cube and season with black pepper. Stir
then bring to a gentle simmer for 30 minutes.
Squeeze the coffee bags again then discard them and pour the coffee into the pan. Stir, then place the tomato halves on top of the casserole. Cover with a lid and cook over a low heat for a further 20 minutes, taking care not to break up the tomato halves.
Squeeze a little lime juice over the peeled and chopped avocado. Serve the casserole in a bowl, with the avocado on top, a wedge of lime, and cooked quinoa or wholegrain rice on the side. Sprinkle with a little fresh coriander, then spoon on a dollop of vegan yogurt if desired.
---
Click here for more great recipes from "The People's Friend". If it's a casserole you're after, we would also recommend this Vegetarian Mixed Bean recipe!
If you can't get to the shops just now for your "Friend", subscribe now by clicking here. It means your magazine will come straight to your door every week — all you have to do is put the kettle on!
You can also take out a digital subscription, meaning your issue will come straight to your computer, tablet or phone! And it's great value for money. Click here for more details.