Willie's View: Highland Perthshire
---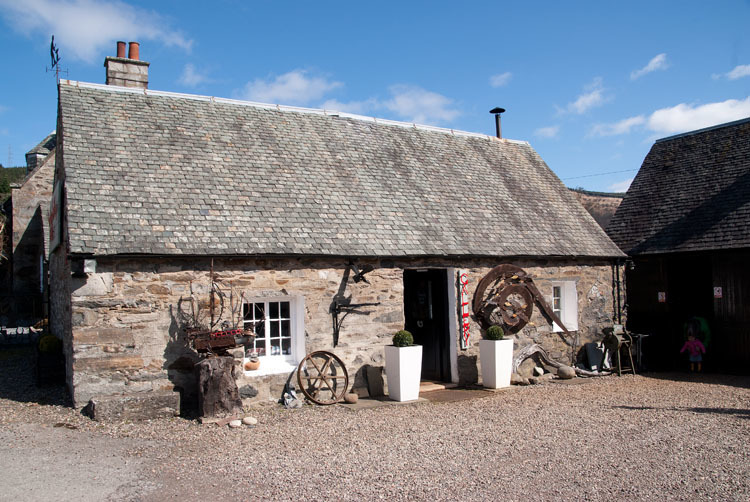 What a fantastic day it was on Friday. At long last it feels as if spring has arrived to Highland Perthshire at least.
I couldn't have wished for a better day to pay a visit to Keltneyburn Smithy and Gallery near the foot of Glen Lyon.
A working blacksmiths for over 200 years, this old smithy has some of the most unusual sculptures. All were hammered out on the premises.
It's a great wee place that never fails to make you feel good after a visit. Usually I head for Glen Lyon in the autumn to capture the colours but today the daffodils are out and the young lambs are jumping around in the fields.
I think this is one of the bonniest parts of Scotland whatever the season. Being such a good day, following my visit to the smithy, I tossed a coin.
Heads I aim for Glen Lyon and back over the hill to Killin. Or tails take the road over by Foss to Pitlochry. Tails it was. Pitlochry was as busy as ever. The good weather has surely brought all the tourists out of hibernation.
It's always nice to stretch the legs in Pitlochry with a walk by Loch Faskally and all its ducks, round to the Theatre and over the dam or back across the long wobbly footbridge over the Tummel.
I'd a notion to have supper in Pitlochry before heading home so, with a quick run up by Moulin, from Edradour Distillery, I had just enough time to walk down to the Black Spout waterfall and help work up an appetite.
Whether spent in Highland Perthshire or not, we certainly could do with a lot more days like Friday!
For more from Willie, click the tag below.
You can also read more of our travel features by clicking here.