Salmon and Leek Ramen
---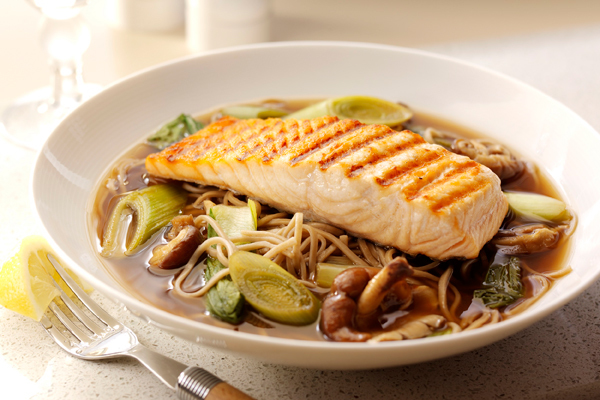 British Leeks
Olive oil, for frying
4 x 130g salmon fillets
8 fresh shiitake mushrooms, chopped roughly
2 pak choi, chopped roughly
2 british leeks, washed and thickly sliced, outer leaves removed
Soba noodles, boiled and drained
British Leeks
For the broth
15g dried shiitake mushrooms
4 stalks of lemongrass, outer leaves removed, chopped roughly
2 garlic cloves, crushed
50g fresh ginger, peeled, sliced and crushed
2 tomatoes, halves
British Leeks
Make salmon part of your weekly diet to get those all-important omega 3's!
First, make the broth. Put the dried shiitake mushrooms in a saucepan with 1 litre (1 pints) of water. Bring to the boil, then gently simmer for 5 minutes to release the flavour. Add the lemongrass, garlic, ginger and tomatoes and stir to mix. Simmer gently for a further 15 minutes. Remove from the heat and leave to infuse for 30 minutes. Season to taste. Pass through a sieve to remove the aromatics and set aside, ready to reheat for serving.
Heat a large frying-pan over a medium-high heat with a generous splash of oil. Place the salmon fillets in the pan skin side down and cook for about 3 minutes or until crisp. Turn the fish over and cook for a further minute or so. Take off the heat and allow to rest.
Meanwhile, heat the broth back up to the boil. Add the fresh shiitake mushrooms, pak choi and leek and allow to cook through.
To serve, place a portion of soba noodles in a bowl, add the broth with the vegetables over the noodles and place a salmon fillet on top of the noodles. Serve immediately.