Writer Of The Week: Hilary Bowman
---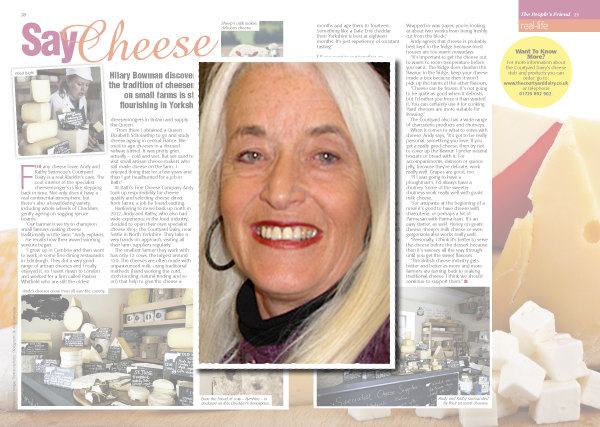 Meet our Writer Of The Week, Hilary Bowman.
Hilary has been a writer and editor since the early Seventies. She has worked on a diverse range of national titles, from teenage magazines to countryside matters; from online family and social history publications to specialist writing magazines.
After establishing her own freelance business in 1993, she set her sights on the "Friend".
The magazine appealed to her because of its long-standing tradition, and its position in the field. Thankfully the ideas she pitched were accepted, and she has written for us on a wide variety of topics ever since, sometimes under the pen-name of Hilary Gray.
Writing For The "Friend"
There is no typical day when writing for "The People's Friend".
Amongst her interviews (too many to list!), Hilary has visited farms involved with animal rescue, and a disused red telephone box transformed into an exhibition centre. She has also discovered just what it's like to be in charge of running a stately home.
She regularly interviews dedicated bands of people who devote their time to worthwhile charities, such as aid for Romania. One memorable interview involved a fascinating day meeting a former wartime land girl who was forced to specialise in rat-catching!
Hilary moved from Scotland to the Yorkshire Dales in 1986, and has become an adopted Yorkshire woman.
"We spend as much time as possible outdoors," Hilary said. "Enjoying a vista which we never take for granted: the fields dotted with sheep and the network of drystone walls with the backdrop of Pen-y-Ghent, the nearest hill or 'fell' as they say in this part of the world.
"In has ever-changing moods, one minute dark, forbidding and monochrome, the next an artist's palette of green dappled with sunlight or crowned by a rainbow.
"It's equally dramatic throughout the seasons, shrouded in mist with low cloud, dusted — or blanketed! — with snow, or glowing with all the shades of autumn as the sun sets."
She also has a soft spot for her native Dundee, and never tires of that journey across the Tay Rail Bridge.
Over the years, her job has introduced her many wonderful parts of Britain. She feels very privileged that, through the "Friend", she has met so many remarkable people.
For more from our Writer Of The Week series, click the tag below.
To read some of our travel features, including some by Hilary, click here.