Butternut Squash and Spinach Frittata
---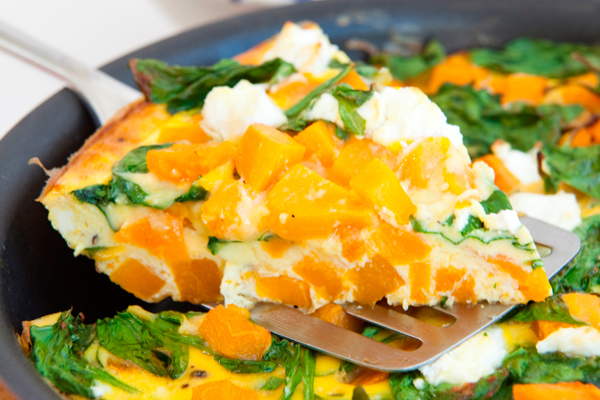 Pre-heat oven to 180 deg. C., 350 deg. F., Gas Mark 4. Toss the squash pieces in 1 tablespoon of the oil and roast for 20 minutes or until tender. Keep the oven on. In a bowl, mix together the eggs and milk and season well. Heat the other 1 tablespoon of oil in a large, ovenproof frying-pan and add the squash pieces. Pour over the egg mixture. Cook over a gentle heat for about five minutes, until beginning to cook. Scatter over the spinach pieces and crumble in the goats cheese. Move the pan around and gently move the egg with a spatula so that the spinach and goats cheese become integrated with the rest of the tortilla. Cook for another five minutes, then put the pan in the oven for a further few minutes until the tortilla has set and the top is golden. To make the salad, toast the hazelnuts in a dry frying-pan over a medium heat, shaking the pan from time to time and keeping a close eye that they do not burn. As soon as they start to turn slightly brown, take them off the heat. When they are cool enough, use a large knife to chop them roughly. Mix the rocket and herbs together in a salad bowl. In a separate bowl, mix together the oil and vinegar with a small whisk. Add the sugar and a pinch of salt. Toss the leaves in enough of the dressing to coat. Sprinkle with toasted hazelnuts. Serve with the tortilla.
Red Tractor
1 large butternut squash, peeled and cut into small dice
2 tbs rapeseed oil
8 eggs
100ml milk
Salt and pepper to taste
150g Spinach leaves
60g Goats cheese
Red Tractor
For the salad
50g hazelnuts
50g rocket leaves
Handful of basil, mint, parsley leaves
4tbs hazelnut oil
1 tbs cider vinegar
1/2 caster sugar
Red Tractor
Popeye the sailor used to love spinach, but this frittata will make it a tea-time staple for all!
Spinach is a green wonder vegetable and part of the chard family of leaves. It's packed with iron and vitamins A and C, making it a must-have for those into health foods.
Butternut squash is packed with potassium, fibre and vitamin b6, they also keep the longest out of all vegetables, 3 months – wow!
A frittata is a great way to use up leftovers at meal times, and eggs are a great source of protein, minerals and vitamin D.  Did you know a chef's hat is said to have a pleat for every way you can cook eggs!