Writer Of The Week: Dianne Boardman
---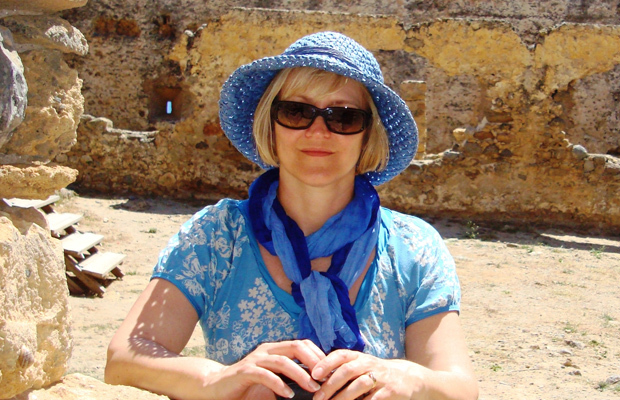 Meet our Writer Of The Week, travel journalist Dianne Boardman.
How did you become a travel writer?
My father was a teacher and when I was a child our family spent long summers travelling and camping around Europe. He would research the history of the places we visited and recount it to us as we went along. I always kept a diary of our holidays and included this information in detail. It added so much to my enjoyment of the trip. After I grew up I carried on researching and recording the places I visited in my notebook. In 1997, after studying journalism, I was staying in the beautiful Spanish town of Ronda and decided to have a go at writing about it professionally. I sent my story to the "Friend" and it appeared in a weekly issue in 1997. I've been writing about my travels ever since.
Tell us about one of your favourite travel moments a memory that really sticks in your mind?
I have so many memories – they are like butterflies in my head. One that stands out, though, probably because it was both amazing and very frightening, was with a small group on a guided walk through a rainforest in Alaska. A huge brown bear suddenly appeared out of the undergrowth on the path next to us. He had a salmon in his mouth and I think he was just as surprised to see us. We remembered our Bear Encounter Training and began waving our arms and shouting and he soon headed off for some peace and quiet to finish his dinner.
What's your favourite way to travel car, plane, rail, bicycle? Or on foot?
When I was younger I loved planes. I even had some lessons to learn how to fly one. But now I like to walk. You see so much more and have time to dream and smell the air and take photographs and really get a feel for the place. Also I have discovered things – like some ancient frescos buried in the grass on a Greek island or view from a mountain or desert dune – that I couldn't have got any other way.
How happy are you with your passport photo?
I absolutely hate it. I haven't much liked any of my passport photos, but this current one is the worst. It was a very bad hair day when that photo was taken. I can't wait until it runs out in two years' time because even though I'll be ten years older I can't possibly look as bad.
Is there another part of the UK or the world where you would like to live?
I love living in Derbyshire's Peak District and can't really see myself moving very far. On the other hand, my sister has just moved to Southern California and I must admit all that continual sunshine is a great temptation. Then again, I might not be Writer Of The Week again if I'm that far away!
What's been your most memorable meal while travelling?
I love my food and I've eaten a lot of it whilst travelling. The best meals are memorable for the company and location, too. Some were very simple like stingray grilled over a can on a beach or a one-pot stew in the desert, and some were very fancy in five-star revolving towers or on the Orient Express. Last year we were staying in Castel Rigone, a hill-top town in Umbria and the cook invited me and my husband into her kitchen and taught us how to make fresh pasta from scratch. We were so proud when it was served to us and a few other guests in the restaurant that evening.
You can some of our travel features by clicking here.
For more from our Writer Of The Week series, click the tag below.