Tenderstem® and Seafood Pie
---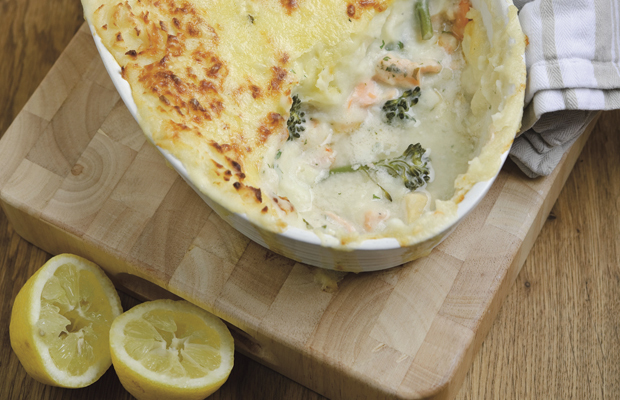 www.tenderstem.co.uk.
40g (1 1/2 0z) butter
1 medium onion, chopped
1 bay leaf
40 (1 1/2 oz) flour
150ml (1/4 pt) white wine
300ml (1/2 pt) semi-skimmed milk
200g (7oz) Tenderstem broccoli
500g (1lb 2 oz) skinless salmon fillet, cut into approx 3cm cubes
200g (7oz) raw, peeled tiger prawns
3 eggs hard boiled and chopped
1 tbs chopped dill or parsley
Salt and pepper to taste
www.tenderstem.co.uk.
For the topping
900g (2lb) potatoes
4 tbs semi skimmed milk
10g (1/4 oz) butter
25g (1oz) Cheddar, grated
www.tenderstem.co.uk.
Pre-heat the oven to 200 deg. C.,400 deg. F., Gas Mark 6.
Melt the butter in a large saucepan and gently saute the onion with the bay leaf until the onion is softened but not coloured. Stir in the flour for about 30 seconds before gradually adding the wine, stirring to prevent any floury lumps, before doing the same with the milk. Bring to a simmer and cook for a few minutes until you have a thick sauce.
Cut the Tenderstem into bite-size pieces and stir into the sauce. Bring to a simmer and cook for about 5 minutes.
Stir in the salmon and prawns, then return to a simmer. Cook for a few minutes, until the prawns are pink, and then add the eggs, dill or parsley and season to taste. Spoon into a large ovenproof dish and keep to one side.
To make the topping, boil the potatoes in lightly salted water until tender, then drain well and mash with the milk and butter. Spread the mash over the pie filling.
Sit dish on a baking tray and scatter the cheese over the top. Place in the pre-heated oven for 30 to 40 minutes until the topping is golden and the filling is bubbling at the edges. If making the pie in advance and storing in the fridge, allow a further 10 minutes cooking time.