Moroccan Chicken
---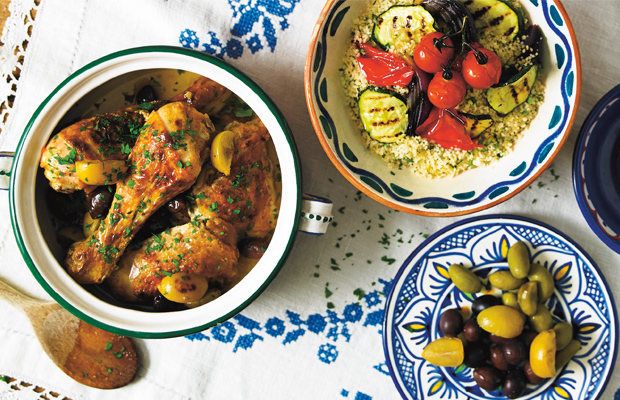 Recipe courtesy of www.yeovalley.co.uk.
8 organic chicken pieces, thighs and drumsticks
450 ml (16 fl oz) Lemon Curd Yoghurt
2 cloves garlic, crushed
1 tsp ground cinnamon
2 tsp ground cumin
1 tsp ground chilli
½ tsp salt
3 preserved lemons, quartered and pips removed
100 g (3½ oz) pitted olives
100 ml (3½ oz) chicken stock
Handful coriander leaves
Couscous; roasted vegetables - To serve
Recipe courtesy of www.yeovalley.co.uk.
Make a few slits in the chicken pieces and pop into a large dish.
Mix together the yoghurt, garlic,cinnamon, cumin, chilli and salt and pour it over the chicken. Leave it to marinate for 2 to 3 hours.
Pre-heat oven to 200 deg. C.,400 deg. F., Gas Mark 6.
Remove the chicken pieces from the marinade and put them in a roasting tin with the preserved lemons. Roast for 40 minutes,add the olives to the tin and then continue cooking for a further 10 to 15 minutes. Test the chicken slip a sharp knife into the meat; if the juices run clear it is cooked.
Put the chicken, lemons and olives on to a serving plate, then simmer the juices and chicken stock for 3 to 4 minutes, scraping the cooked juices from the bottom of the pan. Pour over the chicken and scatter the coriander over.
Serve with couscous and roasted vegetables.