Willie's View: Busy Banchory
---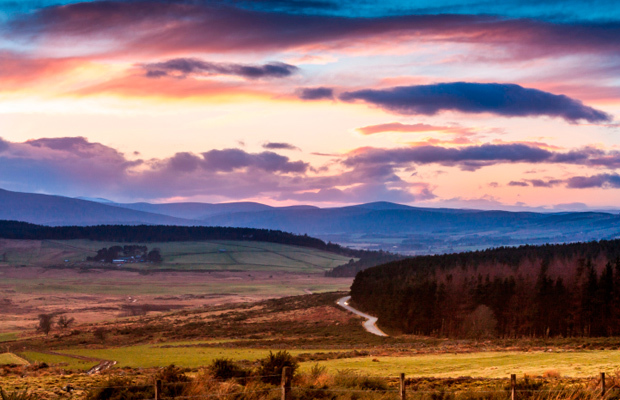 © Thinkstockphotos.
It was still dark when I left home this morning, heading for Banchory.
With a good forecast for the north-east, I was fairly confident at setting off in trust. By the time I'd reached Dundee, the sun was rising into a virtually cloudless blue sky. I was even wishing I'd set off earlier!
Nonetheless, I made good time arriving at Banchory in Deeside for the back of 8am.
Banchory is always busy, even in February. Where I was making for, though, would be less busy: the wee forestry car park at the foot of Scolty Hill.
Climbing a hill is maybe not the best of treatment for the sore toe I've been nursing, but it was just what I needed.
As hills go, Scolty Hill is pretty tiny — not even 1000 feet. But the views from the summit are worthy of a hill twice or even three times its height. Judging by the size of the car park, more than a few folk know that, too.
There are lots of routes to the top — some longer, with gentler incline; others more direct and steeper. Crowning the hill is a tall, slender monument erected in memory of General William Burnett.
Among his many other military achievements, he was Commander Of The Forces In The West Indies. This is a surprising wee hill, with tremendous views over the Howe of Banchory.
You'll win an even better viewpoint by climbing the 71 spiral steps of the tower.
Near the foot of the hill, the Water Of Feugh tumbles down to join the Dee, just before they meet are the Falls of Feugh. In spring and summer, the footbridge above the falls makes an excellent platform from which to watch the salmon leap.
"The Brig o' Feugh" is one of more than 600 tunes left to us by James Scott Skinner, possibly our greatest fiddler and composer of the 19th century. He was born in Banchory in 1843.
Another place on the cards for today was Crathes Castle, just a couple of miles east along the Dee from here. The snowdrops and aconites in its gardens helped add to the feeling of winter's departure.
My way home was to take me out by Strachan and over the Cairn o' Mount to Fettercairn. Passing a sign for the Angus Glens, I knew where I'd be heading tomorrow.
Read more about Willie's travels by clicking the tag below.
You can also take a look at our travel pages for inspiring views and top things to see and do.