The Little Chapel
---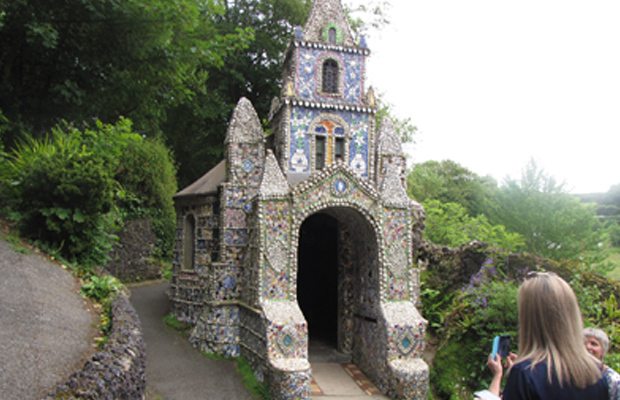 No visit to Guernsey would be complete without a visit to the Little Chapel. Possibly the smallest chapel in the world, this beautiful building is decorated with seashells, pebbles and colourful pieces of broken china. It is both a work of art and a labour of love and was built by Brother Dodat who started construction in 1914. He wanted to create a miniature version of the famous grotto and basilica at Lourdes in France.
The sheer work involved in this tiny chapel took my breath away. Little pieces of colourful broken china, seashells and pebbles have been cemented into the walls in the most intricate and complicated of mosaics. The patterns these pieces make are clear from a distance, but up close the sheer number of them dazzles you.
Inside the building it is like a little maze and I found myself in the largest room with an altar. I say large, but six people in that room would have been standing elbow to elbow! Stained glass windows allow light in to the Little Chapel and mean that you can see all the different pieces used to create the effect. New pieces of broken crockery are used for ongoing repairs all the time and it is a nice way of mixing the old with the new.
If you look really carefully, you will find hundreds of tiny ceramic pictures in amongst the pottery pieces, pebbles and shells that decorate this quirky church. Try not to time your visit when one of the large cruise ships is docked in St Peter Port, though. The little chapel is a top tourist attraction on Guernsey and coach loads of visitors can arrive at any time of the day.
I was lucky enough to have it almost to myself for half an hour and it was definitely an experience I am glad I did not miss. The dedication and love poured into that tiny building is unmistakable.