Our Writing Workshop, York, 14th April
---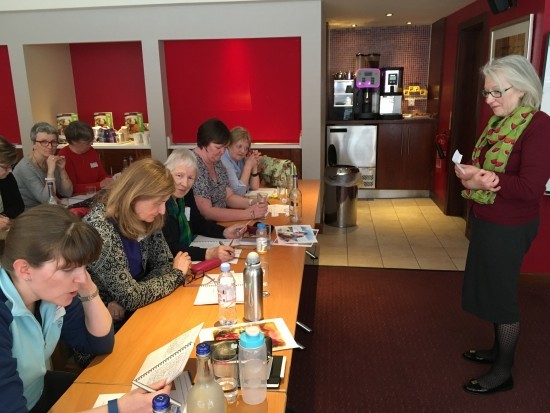 Kate takes the group through one of her writing exercises. Photo: Shirley Blair
So, that's another workshop done and dusted. York this time, yesterday. A full house again, with writers of every level of experience.
We had some who have notebooks full of unfinished stories, and others with files of completed stories they've never had the nerve to submit. Some wrote poetry but want to try changing direction, while others were contemplating, or are in the early days of, retirement and want to start writing.
We had Tracey Walsh still fizzing with the excitement of her first story sale to "The People's Friend", and Glenda Young basking in the glow of her first published "Friend" story. And with many more to come; Glenda's submitting regularly now and is already thinking more ambitiously in terms of writing a serial or a pocket novel. It's great when we see a writer's confidence growing like that.
So we had total beginners, and at the other end of the scale Patricia Belford and Pat Posner, both able to look back on many instances of publication in the "Friend". Oh, and Moira Conway who used to write for our own much loved "Jackie".
They're all in this pic of the group as a whole, all hard at work. It's a bit like being back at school, isn't it?!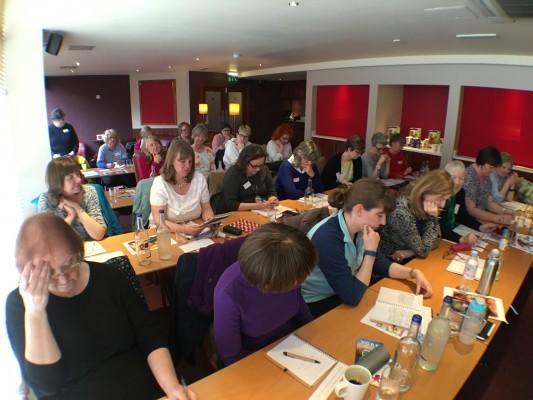 No matter what the level of experience, what we all had in common was a love of fiction, of working with the written word, and a desire to exercise the creativity that burns inside every one of us. While I come at things from the publishing side of the business, writer Kate Blackadder gave her usual excellent talk on how to harness that creativity, how to work with inspiration, and offered lots of invaluable tips for when the muse won't quite cooperate.
Thanks for coming, ladies. Glasgow next week. More pics and another blogpost to come…