Our Writing Workshop, Glasgow, 21st April
---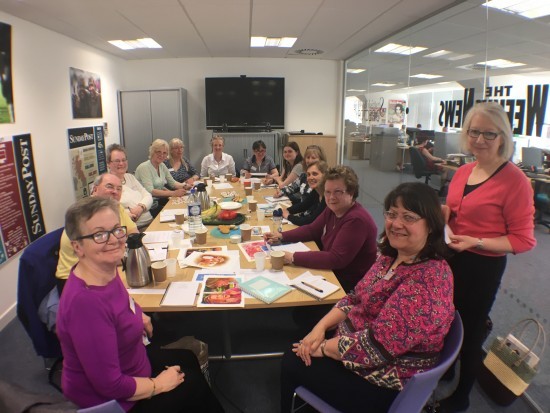 Our aspiring writers with Kate in Glasgow of this year. Photo: Shirley Blair
We held our last workshop of the spring season yesterday, at our rather smart offices at Skypark in Glasgow. First time I'd been there – thanks, Mrs Sat Nav – but we were made very welcome by the whole team so I think we'll be back.
Eleven ladies and one solitary man joined us. And because we were on home turf, some of our colleagues were able to pop in and say hello. Kirsty from Marketing impressed everyone no end with her party trick of recounting every single one of our 20+ group titles. And "Friend" Design Editor Jaclyn, who happened to be in our Glasgow office on business, was our favourite person for rolling up her sleeves and keeping the pots of tea and coffee coming.
Our single gent was Brian, who told us in the introductions that his wife had bought him the day, which had come with the challenge that he now has a year to get published in "The People's Friend". No pressure then! And what if he doesn't? He hasn't dared ask!
Yesterday's group were all more novice writers, with limited or no published success – or even experience of submitting work. And that's great because that's one of the points of our workshops: to tell aspiring writers exactly how to go about it, and to encourage their confidence so that they feel they can.
I took a quick picture as usual. My guest presenter Kate Blackadder was just about to give them another exercise but we allowed them a momentary breather to smile for the camera!
Kate has joined me for three of this season's "gigs", as Alison Carter did for the first one, last month in London, and their contribution from the writer's perspective is essential and invaluable. I can tell aspiring writers what "The People's Friend" is looking for from a Fiction Ed point of view, but it's my two experienced writing colleagues who have the "And how do I do that?" answers. Both have produced short story collections, available here and here, that prove they very much know what they're talking about. I couldn't do it without you, ladies. A big thank you, and to everyone who has come along and made the spring events such fun. I'll be starting to look at autumn dates soon.