Sightseeing in Newcastle
---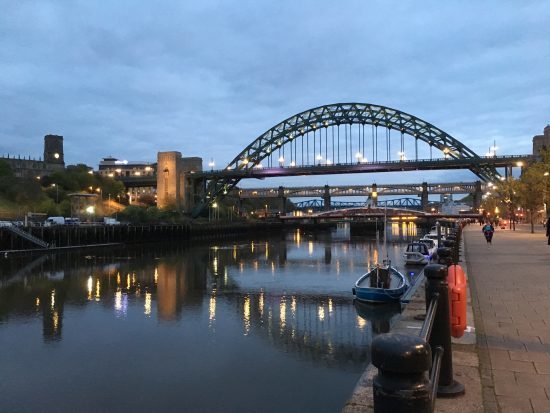 Photo: Shirley Blair
I'm sightseeing in Newcastle, where I arrived this evening, Wednesday, ready for the first of our Spring short story writing workshops tomorrow.
I have a little routine when I arrive the evening before one of my "gigs", as I call them.
I check into my hotel, of course. Phone or FaceTime my husband, of course. Then I check where the meeting room is, and that everything is as it should be; for example that the box of notebooks my admin colleague Kari has sent down has actually arrived and that they know it's for me.
I check the arrangements for our guests finding the room. And then I go back out and suss out the area, checking where convenient lunch stops of various kinds are, for example. But it's often the first time I've ever been to a place. With Newcastle it's only my second ever visit. The first time was decades ago for the Tall Ships. So I enjoy that opportunity to have a look around for my own sake, too.
I've walked miles around York when we've had our workshops there. Beautiful, fascinating city. I had a lovely wander around the surrounds of the hotel in Bristol, although we were out on the outskirts there. It's a city I'd love to see more of; I've read a lot about it and it seems to be a fun, happening place with a vibrant energy about it.
London, of course. It's not somewhere I've been very often, and certainly not with time to explore.
And now Newcastle. I've just had a walk alongside the famous Tyne, which is lined by some very fine buildings, with colourful light displays that reflect in the water. Under the iconic bridge, of course – which, unusually, is nesting site to hundreds of kittiwakes. The noise! And the hotel is right next door. I can hear them now from my room. I wonder if they'll inspire any stories tomorrow?
I can't wait to find out.