Behind The Scenes: Alison Says Cheerio
---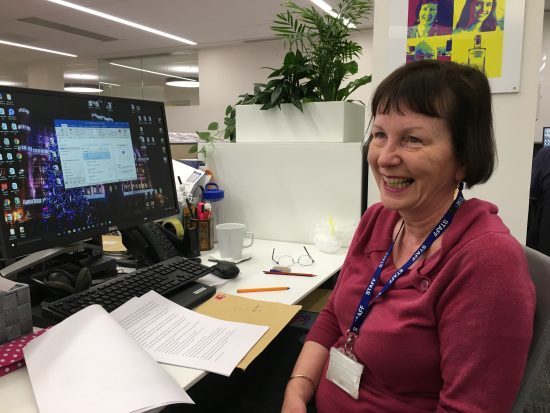 Photo: Shirley Blair
Our colleague Alison says cheerio tomorrow as she heads off into her retirement years. You know us, but you don't know much about us, do you, so I thought it would be nice to take the chance for a mini interview here before she goes.
---
So, Alison – tomorrow's your last day not only with us but with DC Thomson as a whole – how do you feel?
It doesn't feel real. Despite planning for this particular time in my life, that hasn't made it seem any more real at all. Suddenly I'm here, about to open a new chapter in my life. It's exciting but a bit daunting, too.
Readers will be interested to hear about your career leading up to joining the Friend.
When I began my career with the firm in 1980 it was still the days of hot metal. I began in the Central Fiction Dept and after a week was placed on Secrets, a letterpress magazine. I also worked on Red Letter, another of our old letterpress titles. Both of these publications were renowned for their fiction as well as features, of course. One of my first jobs I remember was writing horoscopes for Secrets.
In 1984 -85 I actually worked on the People's Friend for a period, then it was back to letterpress – where I first worked with you, Shirley. But then in 1987 I was moved to the Scots Magazine, which was a complete change. At that time that office then produced both the Friendship and Fireside books, though they're now part of the Friend. My years on the Scots Mag were a terrific learning curve, working on all kinds of Scottish interest features, occasionally fiction, and funnily enough I enjoyed writing a cookery series called Cook's In The Kitchen. Then in 2012 came my move to the People's Friend.
What will you miss most about the job?
I'll miss the routine, although that's not a word I like – it sounds so dull! Perhaps structure is closer. I'll miss the interaction with colleagues, story writers, poets….
And what are you looking forward to most in your new life?
Me time. Having a bit more time to please myself. Time to turn around! And I've got a home project – though that will probably be more stressful than the most demanding day at work!
What do you think you'll do on Monday morning?
I'm hoping to try out my concessionary travel pass for the first time, though it still hasn't arrived. Will the microchip work? Will they recognise my photo?
Have you made any plans? To travel? To read that book you've always meant to?
I'm hoping to travel once the dark short days of winter are behind me, and I'd like to start off with some trips in Scotland. Then it would be particularly good to revisit Belgium where I haven't managed to visit for a couple of years now. Our Belgian friends are also planning to visit Scotland in June for the Royal Highland Show at Ingliston.
What do you see yourself doing a year from now?
I would hope that I've achieved my home improvement plans. And picked up the threads of studying French and German again in a structured class situation. And just generally taking life as it comes.
---
We wish Alison all the very best from all her friends and colleagues both in the People's Friend and the wider company. We'll miss her.