Fiction Sneak Peek: Jan 13, 2018 issue
---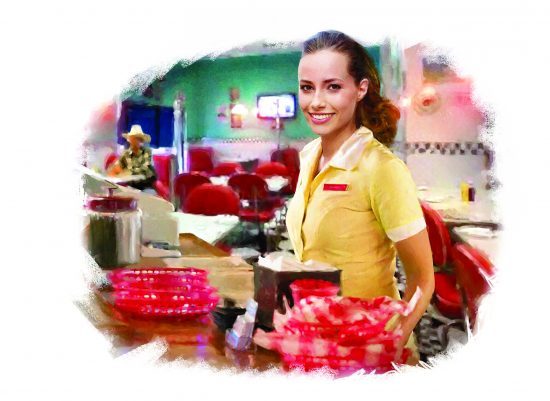 Illustration: Martin Baines
A Tennessee roadside diner is the setting for Jennifer Copeland's story All Through The Night. Sugar's a waitress there, working nights, and fascinated by the folks who're awake all hours. And then who should walk through the door but….? It's the first of this week's short story selection.
An Unclaimed Treasure is Judith's charming description of her single state. And she's happy, though . . . she has to admit she's lonely sometimes. And bored now she's retired. Maybe she can kill two birds with one stone? The story's written by Kim Fleet and illustrated by Kirk Houston.
At first Butter On His Paws by Andrea Wotherspoon seems like a traditional story about a missing kitten, but it's about much more than that: independence, parenthood, and children growing up. Illustration: Philip Crabb.
A&E doesn't sound like the perfect venue for romance, until you read Going For Broke by Susan Reynolds, illustrated by Martin Baines.
Alison Carter writes Culwell Tank Week, a spiky, humorous wartime story set in a village with too many cooks spoiling the broth. Illustration: Gerard Fay.
The most beautiful illustration captures the dreamy mood of In The Lakes by Alyson Hilbourne. Maria's childhood was spent holidaying there. How can she tell Mum that they can't go?
Tracey and Tim: twins. She's always been there for him, their close bond unbreakable. But now he's getting married and she hasn't even met the bride-to-be; what if they have nothing in common? That's Party Dresses by Pauline Bradbury, lucky number seven in this week's short story selection, illustrated by Ruth Blair.
Serials
Do you remember Life At Langrannoch, a serial we ran at the end of 2016? It was by Neilla Martin, but Neilla sadly passed away before she could complete it and Joyce Begg, one of our most trusted writers, finished it for her. Well, Joyce so took Caroline and the Grant-Smyth family of the story to her heart that she felt compelled to imagine what happened next, and we now have Return To Langrannoch starting this week, illustrated by Ruth Blair. But don't worry – you don't have to have read the first serial to catch up with the story.
It's the fourth and final part of The Mystery Of The Missing Du Mauriers by Nicolas Burggraf when the crime is solved, all loose ends are tied up, and we say farewell to Hannah and Noah – for now. Illustration: Kirk Houston.
Series
In Malcolm Welshman's Tales From Prospect House, a cow is stuck in a tree. Yes, you read that right…
And in Riverside, the hunt is on for Buster who's gone missing. Gulp. You just can't miss our weekly soap by Glenda Young.