Could A Comic Help A Child Read Better?
---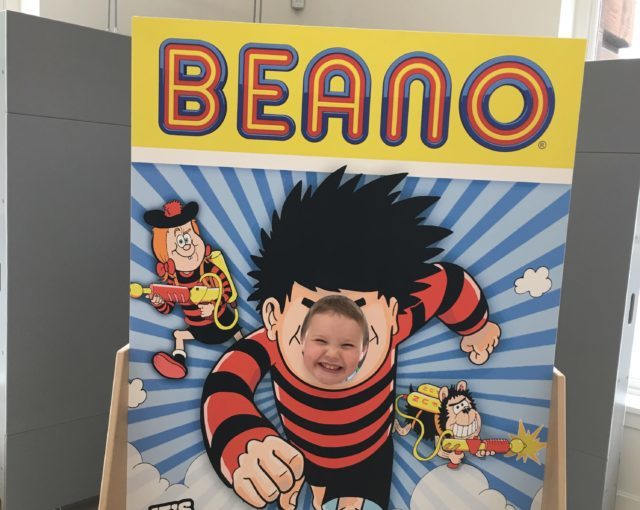 We're very excited to bring you a blog by our Head of Subscriptions, Pamela McLaren:
Hello, "Friend" readers, I'm responsible for promoting and managing our magazine subscriptions.  I am based in Dundee and have been working for DC Thomson for over 9 years (10 years in May).
A few years ago, when my son was starting school, we were trying to find new ways to make learning fun. "The Beano" helped us, and my son find confidence in reading.
It was a very proud day when my son started school.  Half days initially, and then full days in a matter of weeks.  His mind racing with new experiences, faces and rules! Very quickly into the first term, he was given homework to complete.  This mainly consisted of reading out loud phonetic sounds and practising handwriting.
At the beginning he was completely absorbed with his new routine, but the novelty soon wore off. He started to struggle at bit particularly when he was tired after long days at school.  It didn't take long before our son began to see homework as a chore, something to avoid and put off until tomorrow.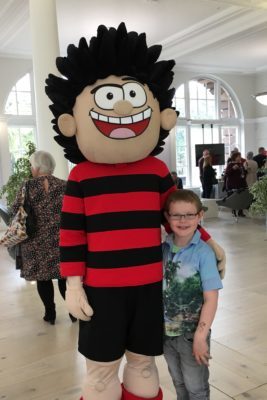 A surprise for us all
We persisted and continued to work through these barriers that he was putting up and we tried to maintain his enthusiasm.   This continued for several weeks until we bought him his first comic.  We introduced him to "The Beano".  To our surprise, he didn't put it down.  He would read in his bed, in the car and on the train.  Anywhere, really.  We were delighted to see his excitement to read every new issue.
His motivation to read and discover Dennis and Gnasher's next comic capers was insatiable.  He didn't see "The Beano" as boring and reading his favourite weekly comic was never a chore. We were thrilled that he was enjoying reading for the first time!  In just  one month, his confidence grew as did his reading ability and homework was less of a struggle.  In fact we were struggling to keep up as he wanted more comics to read.
An enthusiasm for reading
His enthusiasm for reading continued and he joined a comic club after school and is a very active member in the group.  They discuss plots and create characters for their comic strips and set about designing the pages of their very own comics.  He now has a collection of comics and annuals that any serious collector would be proud to call their own.
The initial discovery was transformational and I have no doubt that 10/10 scores in his spelling tests are thanks to picking up "The Beano" a few years ago.  Through reading "The Beano" he has an awareness of concepts, plots and main characters in every story.  He applies this knowledge when he constructs his own stories that have a clear sequence of events with a beginning, middle and an end.  This has also helped with his communication skills and not forgetting the humorous elements with lots of jokes, of course!
Thanks to "The Beano", we now have a very enthusiastic reader who has a love of reading.  Who knew reading could be this much fun!"