The Best Selling Summer Bulbs
---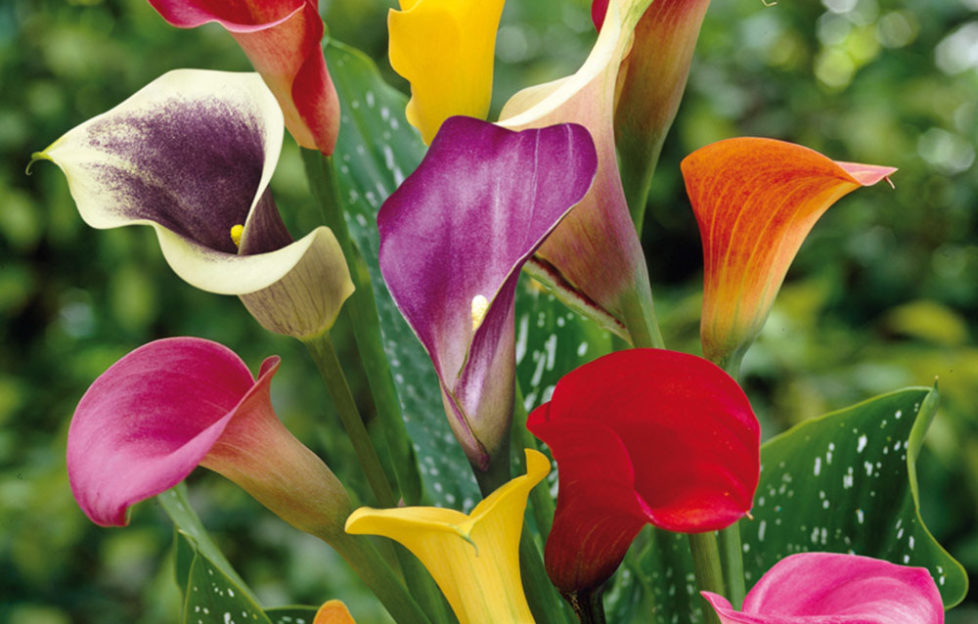 As we turn to Spring, it's time to think about bulbs!
With the weather outside still bitterly cold, you are probably like us and feeling very excited for the summer months ahead! We cannot wait until the weather warms up a little and we can get out to tend to and enjoy our garden.
Bright and warm days spent in your garden celebrating with friends enjoying the summer is even more cheerful with a splash of colourful flowers in your garden. Alliums and Anemones are the first summer bulbs to open the show after spring has passed, but you don't want to stop there. For the best display a little planning is recommended, plus you can grab some spectacular bargains by ordering now. There is plenty to choose from: beautiful Begonias, exotic Cannas, traditional Lilies, romantic Nerines and more!
When to Plant Summer Bulbs?
Spring is the time of the year to get your summer garden ready so some hard work in the garden now will be well worth it once summer arrives. Summer bulbs need to be planted when the weather is getting warmer and soil is around 13⁰C. Find a perfect spot for your flowers and just wait until they burst into colour adding warmth and charm. Keep in mind that most summer bulbs can easily be re-used year by year. Simply lift them up before the first frost in late autumn and store them in a cool dry place.
How to have the most beautiful summer display ever:
Take a note of our five favourite exotic looking summer flowers.
Hardy Zantedeschia (Calla Lilies)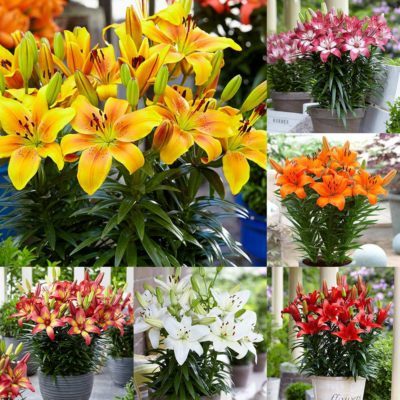 If you really want to get that tropical feel, Zantedeschia, also known as Calla Lilies, are a must have! These exotic flowers can be grown in borders, pots or flower beds. They will flower from May through to October producing a breath-taking display. With their lustrous waxy spathes wrapping around centre spadices and vivid colours, they will look great in the garden as well as cut flowers for your vase. To bring a splash of colour into summer borders we highly recommend our premium Zantedeschia Collection.
Gladioli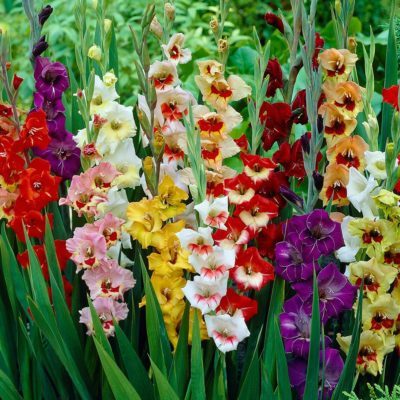 Gladioli are classic perennials and a strong favourite of ours. They are easy to grow with vivid colours and their blooms make luxury, long-lasting cut flowers. Take an advantage of dramatic striped blooms with exotic dense foliage of Cana Tropicana and elegant sword shaped flowers of Gladioli and turn your garden into paradise. Our premium Butterfly Gladioli Mixed have gentle flowers that look like the wings of a butterfly. They are perfect for those locations where taller Giant Flowering Gladioli are just that little bit too tall. Another benefit of planting Gladioli is that they are very attractive to butterflies and other nectar loving insects so your garden will be full of beautiful butterflies and insects.
Freesia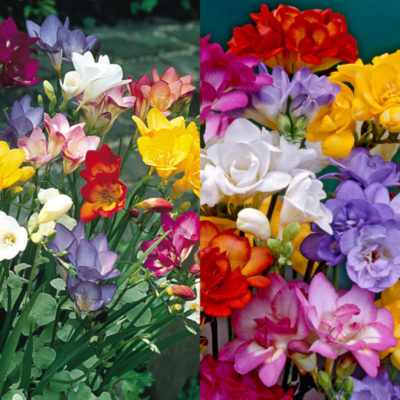 Another exotic looking flower is Freesia with sweetly scented blooms that are simply impossible to ignore. Their origin is from hot South Africa, where their bright colours and strong fragrance make them popular throughout the country. Freesias are ideal for cottage garden borders or patio pots and containers. If you are unsure which ones to choose, try Single/Double Freesia Mixed Collection to add charm to your summer garden.
Lilies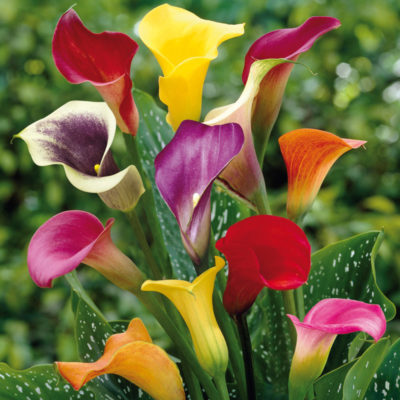 Lilies are well known and valued for their large and sometimes fragrant flowers. Would you like to experiment a bit this year? We would recommend trying short stemmed lilies which are a perfect match for taller flowers such as Giant Gladioli or Giant Lilies. Joy Lily Collection or Short Stemmed Lily Collection will give the most fantastic array of colours in the summer months, from August through to late September. Only growing to 60cm with sturdy self-supporting stems.
Large flowering Crocosmia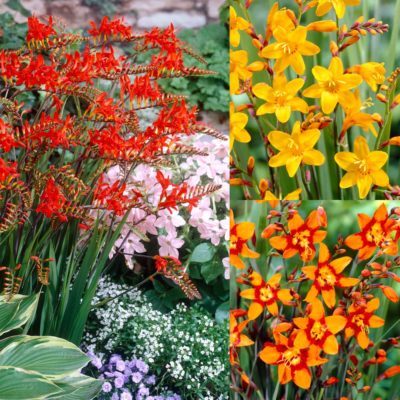 Crocosmias  are one of the most popular summer bulbs in the modern British garden. They are really easy to grow and will brighten up your garden with their magnificent colours. Fresh, funnel-shaped flowers in shades of red, yellow and orange from mid to late summer. Give your border an additional tropical look, you won't be disappointed!
There you have it, that is our top five picks that we would recommend to give your summer garden the wow factor. Our shop has lots more ideas for summer flowers, so why not browse it for additional inspiration?