Writer of the Week: Eirin Thompson
---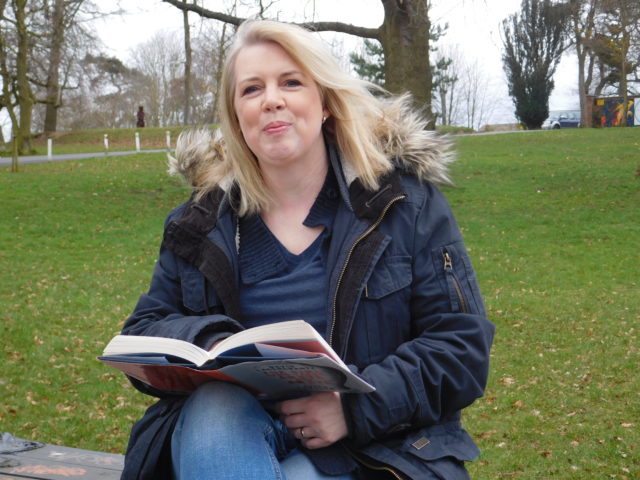 Photograph courtesy of Eirin Thompson.
Lucy chats to Eirin Thompson, author of our much-loved 'Maureen and Jean' stories!
Eirin, what inspired you to start contributing stories to 'The People's Friend' – did it have any special connections for you?
I first saw a stack of The People's Friend magazines on top of the coal-box in my great-aunt Annie's house over forty years ago. But Annie was just a link in a chain of several readers – the magazines were passed on to her by her mother-in-law, to whom it had been introduced by a Scottish sister-in-law. And, when Annie had read the magazines, she in turn passed them to my granny. I remember the blue and green scenes on the cover – quite unlike the glamorous models on the front of my mum's weekly magazines. Even though I later learned that my mum had loved reading The People's Friend as a child, I wasn't sure about writing for a magazine I associated with older women. However, when I actually picked up a few more recent copies for research, I discovered a really satisfying read with contemporary relationships, humour and even some crime alongside the more traditional and historical stories.
Have you always been an author, or have you juggled it with other careers?
Oh, Lucy, I've never really had what you could call a career. I've had lots of jobs, though – when I was very young I worked as, among other things, a waitress, a chambermaid and even a fairground attendant overseas. Then I trained as a newspaper reporter and loved working as a journalist for several years before I became a mum. I combined parenthood with study for an English degree and then a Masters in Creative Writing, which led pretty directly to the publication of two novels – a debut and a sequel, slightly dark comedies about family relationships and small town life. As the writing business can be a bit precarious, I retrained in children's care, learning and development and then in play work, and now combine working part-time in this sector with writing.
Who are your favourite authors? What do you enjoy reading?
The first author I fell in love with was Gwynedd Rae, who wrote the Mary Plain books about a Swiss bear cub who comes to England to live with her guardian, The Owl Man. Even as a six-year-old I had some understanding that I was in the presence of a masterful narrative voice. As a teenager, I was utterly wooed again, this time by William Goldman, probably best known as the writer of Marathon Man and Butch Cassidy and the Sundance Kid. His fairy tale, The Princess Bride, which has lines so good you'll sometimes see them on a t-shirt, charmed me completely. Just before I left home at eighteen, my dad recommended to me John Irving's The World According to Garp and another love affair began. The author said he hoped to "cause a few smiles among the tough-minded and break a few softer hearts". This is certainly the book to do both those things and those words are a pretty worthwhile aspiration for any writer, I think. I am also a massive, massive fan of the Adrian Mole diaries and have re-read these so many times.
Can you tell us about your characters Maureen and Jean – what was the inspiration behind them?
I love Maureen and Jean. They're about the same age as my mum, and I wanted to show that you can't make assumptions that, just because women are in their seventies and somewhat conservatively dressed, they must be somehow bland. My mother has made an art-form of concealing a huge personality and a searing intellect behind an apparently innocent façade dressed by Edinburgh Woollen Mill. It pleased me to give Maureen and Jean very ordinary names that they didn't particularly like, and then contrast that ordinariness with some feisty adventures. I really enjoy writing their dialogue, and I'm ordinarily not hugely confident about writing dialogue. With Maureen and Jean, the way they enjoy sparring verbally seems to generate another line and then another.
Notebook and pencil or laptop? Kitchen table or study? Blank wall or inspiring view?
I write directly onto my laptop. I was taught to touch-type as part of my journalism training and this is extremely useful. I'll park my laptop wherever I can. I'm happy to compose surrounded by all manner of noise and activity but when it comes to a story's final edit and writing my covering letter and fly-sheet I have to be undisturbed. We used to have a study, but it's been taken over by our three sons' many musical instruments, including a piano, a violin, a mandolin, an unloved saxophone and seventeen of their twenty-plus guitars. I do always carry a pencil and paper when out and about, and will scribble down anything that strikes me as interesting, particularly overheard snippets of other people's conversations.
And a PS: What's your one top tip for aspiring writers?
Think of one person who really 'gets' you – someone who doesn't try to change you because they like you just the way you are; someone who thinks you're clever and funny. Now write for them.
For a brand new Maureen and Jean story, just turn to page 47 of this week's issue!
Eirin's novels, Notes for the Next Time and The Undercover Mother are published by Hachette Books Ireland.
Don't forget to subscribe to the weekly magazine!