Turn Your Patio Into a Summer Paradise
---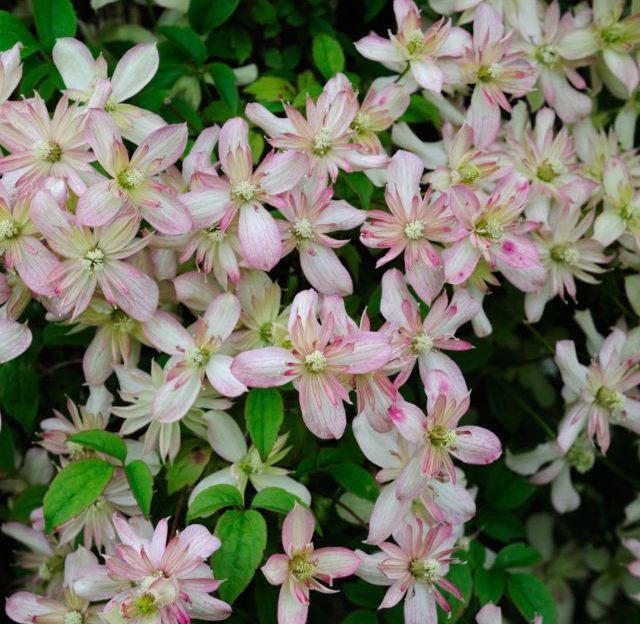 It's the time of the patio in this weeks blog on gardening!
For many of us our gardens are our haven, a little piece of paradise that we share with family and friends. Who isn't dreaming of summer BBQ's on the patio? Keep on reading for our top tips on how to transform your patio into your own little haven without breaking the bank…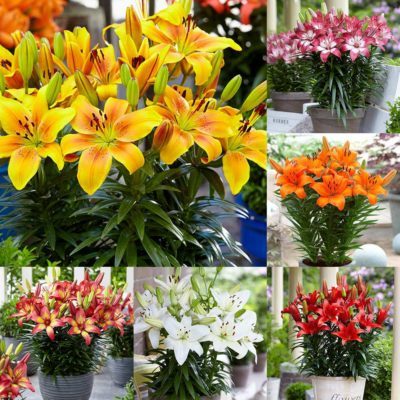 Ideas for keeping costs low
Breathing a new lease of life into your patio or decking space doesn't have to be costly. The price of pots and containers can often be irksome, but it doesn't need to be that way. In fact, often the most effective displays are those that come from re-vamping, recycling and repurposing what you already have around you!
An easy and inexpensive way to renew and bring fun colours to your patio space lies with the classic clay and terracotta pot; most gardeners will have a fair few knocking about. Simply pick up a sample pot of acrylic paint and get painting. This is a great way to break up the monotony of multiple terracotta or clay pots and add colour, it's a fun one to get the grandchildren involved with too!

Upcycling! It's a trend that has exploded in recent years. Not only can you recycle your old shoes or wellingtons, but you can avoid a trip to the skip! Old children's toys such as trucks and boats, old biscuit or coffee tins and old watering cans; can all become quaint and quirky planters for your patio displays. Have a look about and see what you could repurpose and upcycle as a pot. Remember you may need to drill holes for water drainage.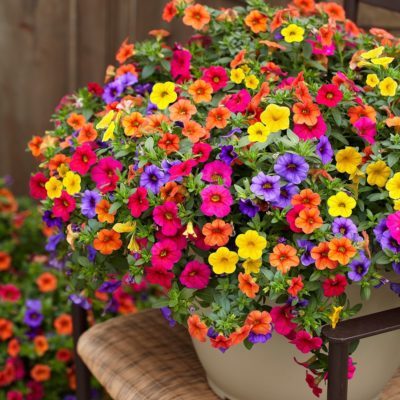 Ideas for smaller spaces
Your patio or decking area might be small but that doesn't mean you are limited in options. 
You can create a cosy and earthy space by rolling tall bamboo or brushwood screening along the sides of your patio border. The extra height gives you greater privacy and can create the illusion of a larger space plus the natural, textured material will give you that feeling of being in your own little haven. 

Make use of the space you do have by creating levels with hanging baskets filled with Petunias or Surfinias. If you like colourful baskets, then try our mix of Million Bells

 

which are vibrant and roughly half the size of Surfinias. Another option is Begonia Cascades which would work well in either your baskets or in elevated potted displays. Click here for offers on Giant Cascading Begonias- three from only £6.65.  Hydrangeas also successfully bring height and drama to a small space. Remember a small space does not mean you have to stick with small flowering plants. For a modern, classic statement have a look at the divine pink and white Hydrangea Diamant Rouge starting from only £9.99.  If you're searching for a more vibrant and bold look check out Hydrangea Blue Boogie Woogie, buy three for the price of two- only £23.98. 

If you want to give the illusion of a larger space then slimline troughs, filled with one type of your chosen summer plant will help you achieve this. My favourite is when these troughs are filled with Scabiosa Dwarf Blue which attracts butterflies onto your patio and flowers June to October. Another good, low maintenance option is Geranium magnificum Rosemoor which flowers from June to September and does well in sunny and shaded spots.

Using mirrors to give the illusion of greater space is commonplace in interior design, but why not try it outside too! Remember it's your space and you make the rules.
Creating levels and adding texture
Simply by pot stacking and adding ornamental grasses or ferns to your patio allows you to quickly achieve a refreshed and more visually dynamic look. It really is the quickest and easiest way to change your patio space for the better, and it gives the eye something new and interesting to see.
Stack your chosen plant pot on another unused pot to give it height, then place lower level pots in front to screen the lower section of the elevated pot. You could plant the pots up with medium size perennials or with trailing plants. Cascading Begonias and Joy Lilies can work especially well in such displays. Click here for offers on Giant Cascading Begonias from just £6.65  and don't miss out on Joy Lilies only £7.99 for five.

 

Another way to introduce levels is with climbers. Introducing just one or two climbers near the edge of your patio space can help soften the transition between the hard and soft landscaping. Have a look at the gorgeous double flowering pale pink and white Clematis Marjorie which flowers from May to August and will attract butterflies. Click here for offers on Clematis Marjorie from £19.98 for four. 

Ornamental grasses such as Festuca, Miscanthus Zebrinus or Carex conica will also instantly add texture. When planted in tall, slim pots or containers they will look contemporary and elegant. These ornamental grasses also carry the added bonus of being an all-year-round delight and very low-maintenance.
Feeling inspired? Have a look at our online garden shop by clicking here and remember to share your results with us.
Happy Gardening!