Lucy Visits York Minster
---
Fiction Team's Lucy visited York over Easter  
During the Easter holidays, I took a trip to York with my younger daughter Clare to see York Minster's 610-year-old Great East Window. It is scaffolding-free for the first time in over ten years! Created between 1405 and 1408, the window is the size of a tennis court, and is the largest expanse of medieval stained glass in Britain.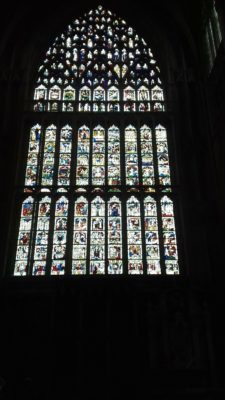 In 2005, sixteen miles (!) of scaffolding went up around the East End of the Minster, to allow stonemasons and conservators to assess the damage. Centuries of exposure to the elements had weathered some sections of stone so badly that the window had begun to bow. In 2008, all 311 panels were removed from the window and since then, each has been carefully cleaned and restored – a mammoth task. The final sections of the window were returned in January of this year.
If you get a chance to visit, other Minster highlights to look out for are the bosses designed by Blue Peter viewers following the 1984 fire, the Quire Screen, featuring kings of England, and the Chapter House, with its fantastic architecture and cool carvings! And if you're not 'churchy', no worries – people of all faiths and of none are made to feel welcome here.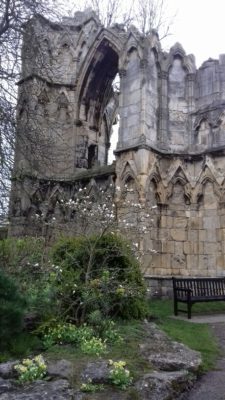 York has something for everyone
While we were here, we walked the walls – free, and a great way to access amazing views! – visited the National Railway Museum (also free, and great fun for all ages), took a trip back in time to a Viking street at the Jorvik Centre in Coppergate, walked around the beautiful ruins of St Mary's Abbey, and ambled through the Shambles, arguably the best-preserved medieval street in the world – and which, incidentally, was given a mention in William the Conqueror's Domesday Book in 1086.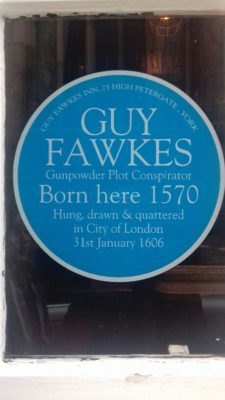 We explored a Victorian street in the Castle Museum, saw the birthplaces of Guy Fawkes (in 1570) and W.H.Auden (1907), and learned about the pioneering Quaker families who founded the Rowntree, Terry and Craven sweet factories. And no visit to York would be complete without a cheeky trip to Bettys Café Tea Rooms on St Helen's Square, and a 'Fat Rascal' – a plump, fruity scone with a cherry and almond face…mmm!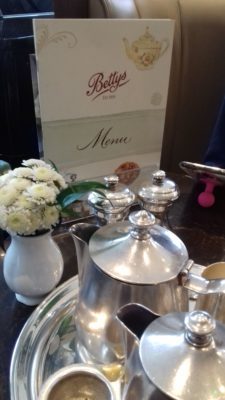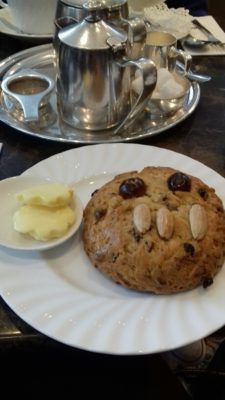 History, shopping, and loads to do whatever your budget and however much time you have – York has something for everyone.
Love Poetry? Lucy wants to hear from you