View From the Vista
---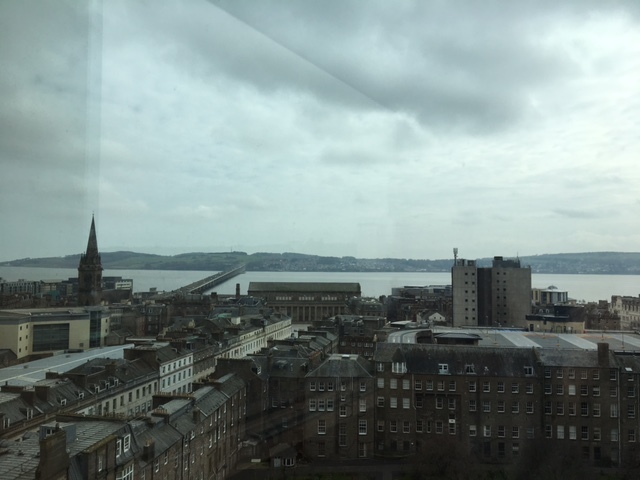 The Vista room in our Dundee offices is the highest room in the building, with almost 360 views over Dundee.
The People's Friend offices are located in the heart of Dundee, as most of you will know. But did you know the building was recently renovated and we have some wonderful new features within the walls?
The building was originally built in the early 1900's and opened its doors in 1906. The building was closed in 2013 for the renovations to begin. Now 600 staff from around the DCT Media group work in its open plan office space. The renovations made the building more environmentally friendly, and sustainable.
The best feature for me, aside from the revolving doors as you enter the building into "The Counting House", which incidentally, never gets boring, is the top floor 'Vista Room'.
Everyone's favourite space
It's hard not to love this room, and I share my love for it with pretty much every staff member I've ever mentioned it to. As you can see from the photo, the views over Dundee are amazing.
If you mention in the lift you're journeying to the Vista room, your answer is met with a wide smile. You can then expect this to be followed by "Ahh, the Vista room, it's lovely up there".
It is very much loved by staff through the DC Thomson building, and more recently by two interns from Edinburgh's Napier University. The two interns study Film at university and were helping to assist me on a new project.
Their temporarily joining DC Thomson was to bring you all some very exciting new content as part of our 150th Birthday. All will be revealed in good time, but know that you should be very excited by it – we are 150 percent sure you will enjoy it.
I spy with my little eye
Dundee is a fascinating city, and the opening in September of the UK's only V&A museum outside of London is very exciting. Dundee is a city getting ready for the influx of visitors this new attraction will bring. Alongside RSS Discovery and HMS Unicorn, we're sure it will be a star attraction and many visitors will enjoy a stroll through Dundee's waterfront on their visit to the city.
From the Vista room, you can see The Howff, Dundee's medieval graveyard, where some of the gravestones have a pirate mark. You can book a tour with Dark Dundee to find out more.
While there's much to discover in Dundee, just being on the top floor of our building, with sunlight streaming in or lashing rain, there's no place I'd rather be!
Find out more about the brands DC Thomson make by visiting our shop – click here for the shop