Writer of the Week: Glenda Young
---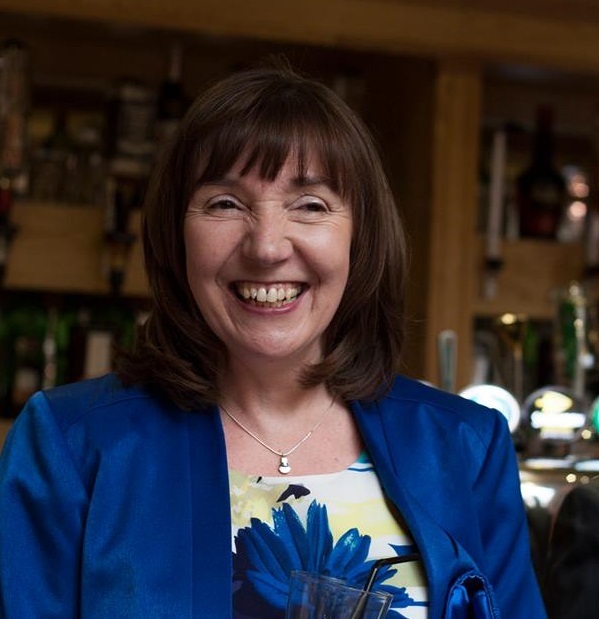 Shirley chats to Glenda Young, writer of weekly soap Riverside and  our Writer of the Week.
This week I'm talking to our weekly soap queen, its creator, Glenda Young.
---
Can you tell us how Riverside came about?
I've written books for ITV about Coronation Street and I'm a huge soaps fan. When the Friend asked if I'd like to write a weekly soap for the magazine, I was beside myself with excitement. I've set Riverside on the site of an ex-shipyard. I live in Sunderland, so this resonates with me. And I think lots of readers will recognise that setting of an industrial site undergoing regeneration. I love writing Riverside – it's my writing highlight of the week. Every Wednesday afternoon I sit down with a cup of tea and a smile on my face to write the next episode.
How do you keep your ideas so fresh and fun?
There's always fun to be had in a soap. Some stories will only last one week, some will last more. But the important thing is the cliffhanger at the end of each episode. I love writing them! Sometimes I think of the cliffhanger first and then write the episode based on that.
You have some exciting book news, too, don't you?
Yes, thanks for asking! I'm all in a tizz about it. I've been taken on by publisher Headline to write three novels set in the north-east mining community of Ryhope (where I'm from). The novels are set at the end of WW1. The first one, Belle of the Back Streets, comes out in November. It's about Meg who takes on her dad's rag-and-bone round after he passes away. But not everyone who offers help is who they seem to be. Although there's tragedy in the book, and drama, there's also lots to make the reader smile.
Laptop or notepad and pen? Kitchen table or study? Blank wall or inspiring view?
Desktop computer for serious writing. Notepad and pen always in my handbag for jotting down ideas and intriguing snippets of conversation! But look, I can show you my writing space.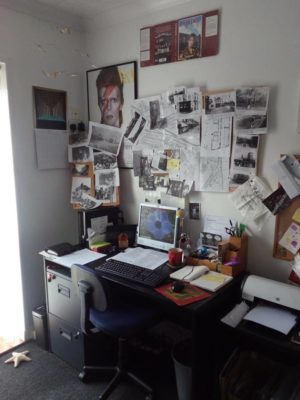 I'm a huge fan of David Bowie so there's a Ziggy Stardust poster over my writing desk. I can only write in absolute silence, so no radio or TV. I give my full concentration to the words.
As I'm currently writing my second novel I have pictures from my research, along with maps and plans and notes, pinned up around me. It feels like I can really live and breathe 1919 – the fashions, haircuts, food, houses – and it helps my work
And a PS: Your top writing tip for aspiring writers?
Write. Write. Write. Never, ever give up. If you know you can write, if you feel it in your heart, you'll get there. Just write.