Karlie's Proper Pork And Apple Burgers
---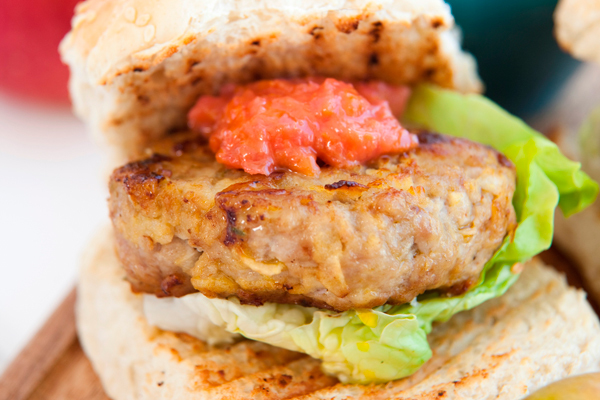 Red Tractor
450 g (1 lb) minced Red Tractor pork
1 large or 2 small Red Tractor apples, grated on the large holes of a grater
1 handful dried breadcrumbs
2 tbs fresh thyme leaves, picked from the stalks
1 tsp Dijon Mustard
Salt and freshly ground black pepper
2 tbs peeled and grated root ginger
4 Red Tractor plums, stones removed and cut into dice
4 tsp brown sugar
1 tsp cider vinegar
Zest of one orange
Red Tractor
For the relish
1 tbs Red Tractor rapeseed oil
1 Red tractor onion, chopped finely
Red Tractor
These pork and apple burgers are a delicious dinner. And you don't even need a barbecue!
Method
Place all of the burger ingredients in a medium bowl and mix with your hands or a fork until evenly combined.
To check the seasoning, make a tiny little patty of meat and quickly fry it until it is cooked. Taste and adjust the seasoning accordingly.
Shape into up to six, evenly sized burgers. Put in the fridge to firm up.
For the relish
Heat the oil in a small saucepan.
Add the onion and ginger and cook gently until the onion is soft – around eight minutes.
Add the plums, sugar and 50 ml (2 fl oz) cold water.
Cook until the plums have softened, about ten minutes.
Add the vinegar and orange zest, and cook for a further minute.
Season to taste. You can keep this in a jar in the fridge for up to two weeks.
You can grill or fry the burgers, depending on your preference, then serve with the relish, in burger buns of your choice.