Welcome to Valletta – European Capital of Culture 2018
---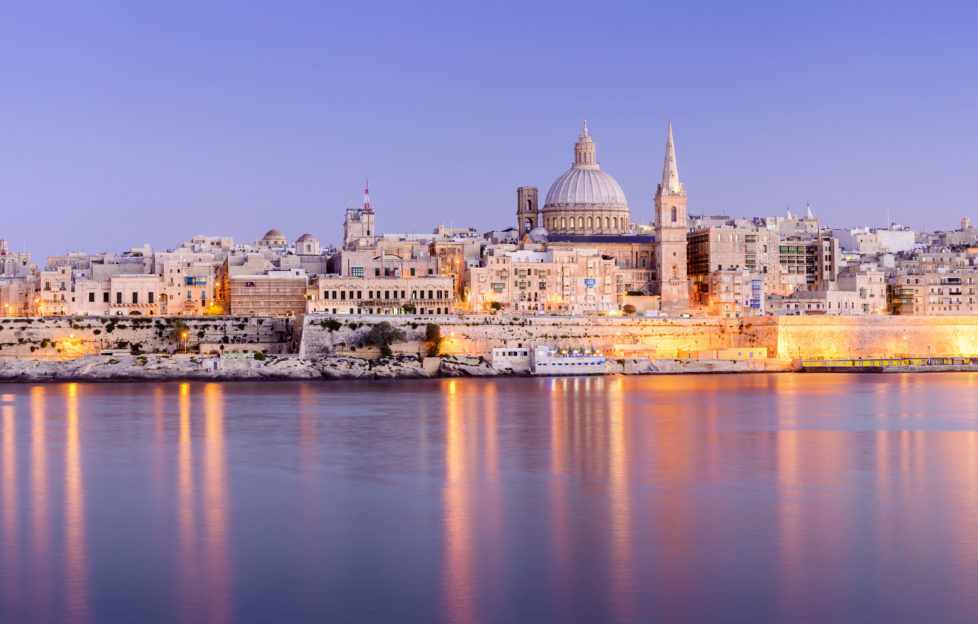 The harbour and St. Paul's Anglican Cathedral and Carmelite Church at Valetta, Malta at twilight.
Malta's capital city Valletta may be small in size, but it's big on culture, history – and sunshine!
As European Capital of Culture 2018, Valletta is welcoming the world – www.valletta2018.org has information on what's on and when. Here are just some reasons why now is the perfect time for a visit.
As if you needed a reason!
It's compact and easy to get around
Valletta is the smallest (and southernmost) capital city of any EU country, built on a peninsula that's only around a mile long, by half a mile wide.
A karozzin, a traditional Maltese horse-drawn carriage is a lovely, r-e-l-a-x-e-d way to see the city; or a self-drive 'talking' electric car tour is fun and eco-friendly too.
It feels like home
Years of British presence on the island means most Maltese speak English, drive on the left, use the same plugs – and love a marching band!
You can still spot red phone and post boxes here, and the future Queen Elizabeth II made her home on the island as a newly-ish-wed forces bride.
It's a UNESCO World Heritage Site
There's so much history here! The first planned city in Europe, Valletta was built as a city fortress by the Knights of St John and named after their Grand Master, Jean de la Valette.
More recently, King George VI awarded the George Cross to the Island of Malta in recognition of "the heroism and devotion of its people" during the siege of 1940-1942.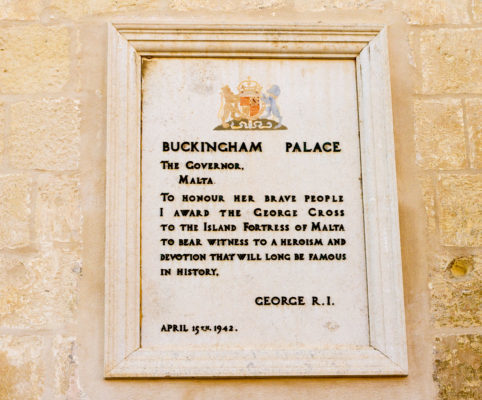 It's a great mix of old and new
The City Gate has been remodelled in local limestone by Italian architect Renzo Piano (who also designed The Shard in London).
Close by is the new Parliament Building, and the Royal Opera House; bombed in the Second World War, its ruins have been redesigned and now act as a framework for an open-air performance space.
Caravaggio's The Beheading of St John the Baptist
Housed in the Co-Cathedral of St John, this huge altarpiece is the only painting known to be signed by the artist – in the 'blood' of the Baptist. Drama!
Caffe Cordina
Established in 1837. Located in an old palazzo. Elegant painting and architecture inside, alfresco cakes outside. Bliss.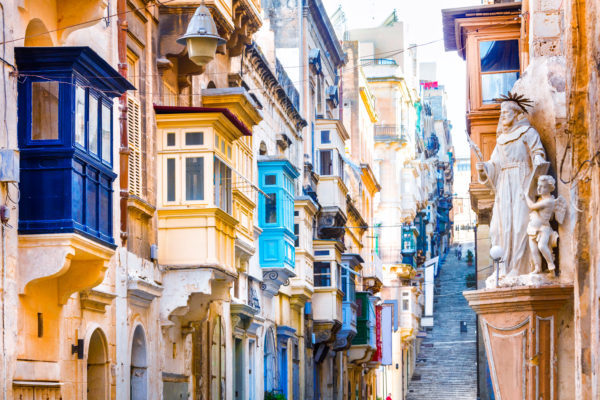 The amazing views
Take the lift to the Upper Barrakka Gardens for a super-stunning, panoramic view of Grand Harbour. And when you're walking around, look up at the 'galleriji'
– these beautiful, brightly-coloured balconies are everywhere!
The sunshine!  
Just 60 miles south of Sicily, Malta has year-round sunshine, and the sea is warm enough to swim in from May til November.