How to get a Handle on House Plants
---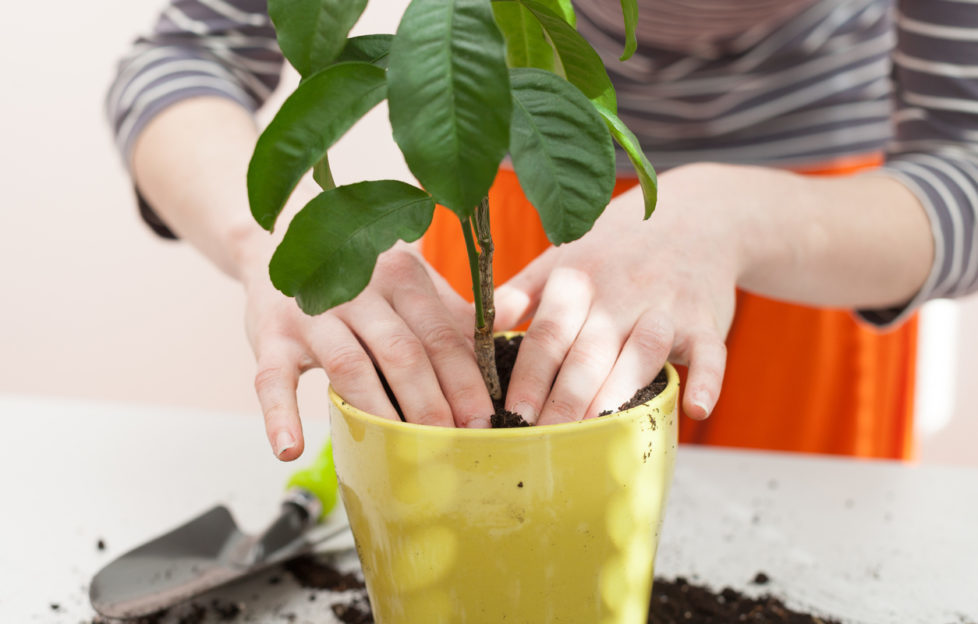 iStock.
Houseplants can instantly liven up a living room, learn how to use them effectively at home
With their glorious greenery, a houseplant can quickly change the feeling of a living room for the better. Having fresh houseplants inside brings the feel of nature into your living room, bedroom, bathroom or kitchen.  Almost any room in the house can benefit from the addition of a plant.
Steamy bathrooms can make a great environment for plants, so don't forget your bathroom when planning greenery. There are some great ideas for framing mirros and adding herbs to your kitchen. We hope you find these ideas useful for introducing nature into your home.
Tabletop terrariums
Terrariums are a modern way of displaying plants in your home. You can buy them ready planted at various garden and home stores, or you can also make your own using a glass jar, container or fishbowl. Terrariums are perfect for housing succulents and cactuses, as they require only a small amount of water and plenty of light to thrive.
Abundance of green
Immersing your home with greenery is currently a popular trend. It can add a feeling of calmness to any space and certain plants can actually improve the air quality in our homes. Big leafy greens look great in a modern interior but go for plants with different heights to create a sense of balance.
Block colour plant pots
If you need to break up an empty space, a large plant pot painted in a bright colour will look stylish and fill the room perfectly. Paint in a single shade that matches the accents of your home furnishings, as this will create a cohesive colour scheme.
Teapot planters
A fun and inventive way to add style to your home with plants is by displaying them in unusual containers, such as an old teapot. Fill with small houseplants and succulents for a vintage, quirky feel to your interiors. Check out your local charity shop or car boot sale for some cheap pieces you can easily turn into fabulous makeshift plant pots.
Heightened interest
A great way of adding a feature with houseplants is by pairing them with other greenery that has different heights and textures. Different plants require different conditions, so try to match plants that will both suit the spot you intend to place them.
Hanging herbs
It's great to grow your own herbs and have them close by when cooking. A clever way to do this and create an interesting feature in your kitchen is by growing them in hanging containers. You should always hang them up as close to a windowsill as possible, so they can receive maximum light.
Bathroom greenery
Don't forget about the bathroom when decorating your home with houseplants. The steamy environment can provide the perfect climate for certain plants, and they can look right at home on a windowsill or next to the sink. You can even hang them on the wall for a retro look. Green plants will always complement white bathrooms.
Don't cut corners 
If a corner of your room is looking a little bleak, an ideal way to fill the space and bring life into the home is with a houseplant. If it's a particularly shady spot go for a plant which doesn't need much sunlight to thrive. Place the plant into a colourful plant pot for an added statement.
Mirror framework
Cute topiaries perfectly frame a large mirror on a mantel or dresser. This is a great way to add style to any home where all you need are two matching indoor plants placed either side. It also adds continuity to a room which will look balanced in a living space and can create a calming effect in a bedroom.
Macrame planters
This retro way of hanging plants was first popular in the 70's but has recently made a revival. Macrame is a technique which uses ropes and knots to form a planter that you can hang topiaries in. They look great in any room and work well with cactuses and succulents.
A spokesperson for Garden Buildings Direct said: "Plants aren't just for gardens – indoor greenery offers a great way of adding vibrancy to our homes and interiors. From adding height and colour to modern and retro styles, there are so many ways you can transform your interiors with houseplants."
These ten creative ways to freshen up your home with plants, came courtesy of GardenBuildingsDirect.co.uk.