Writer Of The Week: Tony Redcliffe
---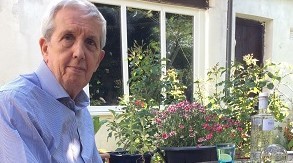 The Fiction Team's Tracey chats to Tony Redcliffe, our Writer Of The Week.
Tony's story, "The Fenton Affair" appears in this week's issue of the "Friend". It will have you gripped!
Where did the idea for The Fenton Affair come from?
I enjoy constructing crime stories, like "The Fenton Affair", although I don't actually read much crime. I prefer spy novels, particularly the brilliant John le Carre.
"The Fenton Affair" had its origin in a story I read many years ago by a French author, of a man imprisoned and then pardoned and what happened when he returned to his village.
Your crime stories are top notch, is this your favourite story genre?
I think my criminal career began when I saw that the "Friend" wanted long read crime stories. I had a go, enjoyed it and was successful with a couple.
I also like humour although I'm never sure that what I think is comic or amusing and might make the reader smile will actually work. The Fiction Team at the "Friend" have to do that.
And romance? I usually feel as though I might be on thin ice with that genre.
Do you have a set writing routine?
I do envy writers who have a set writing routine, dedicated writers who sit down in front of a blank page or screen with a determined face and a mind teeming with ideas.
All too often my mind is a desert and I never know when or if I'll find an oasis. But hope springs eternal. Then one day you're Writer Of The Week!
Do you have a favourite character that you've created?
I remember a serial I did about the First World War and the local doctor's wife was a real tartar, a social snob, and the story needed her. I loved her.
Recently I did a couple of stories of Mr Johnson's Journal about a mild mannered Victorian bank clerk who somehow survived a murder attempt by poison, came successfully out of a prosecution for breach of promise, was found in suspicious circumstances in a hotel for single young ladies and then found romance with the delicious Miss Daisy Meadows. A lovely, hapless chap.
Stories are often driven by characters that you hope the reader will identify with, perhaps sympathise with or understand, perhaps laugh gently at. Love them or dislike them, they must be believable.
Notebook and pencil or laptop? Kitchen table or study? Blank wall or inspiring view?
I always write with a pen and a notebook probably because that is what I've always been comfortable with and I can write quicker with a pen than with two fingers searching for the right letters on a keyboard. I usually write sitting in an armchair with my notebook on my lap often staring into space seeing the scene I'm writing about and waiting for the next event or for a character to speak. If the weather is nice I'll sit at a garden table with just the sound of the birds or the drone of aircraft heading for Liverpool or Manchester.
Interested in reading this story? We have plenty in every issue! Subscribe today and you'll never miss a single one!
Join us next week, when our Writer Of The Week is Alyson Hilbourne.