Piadina with Basil Pesto Mayonnaise
---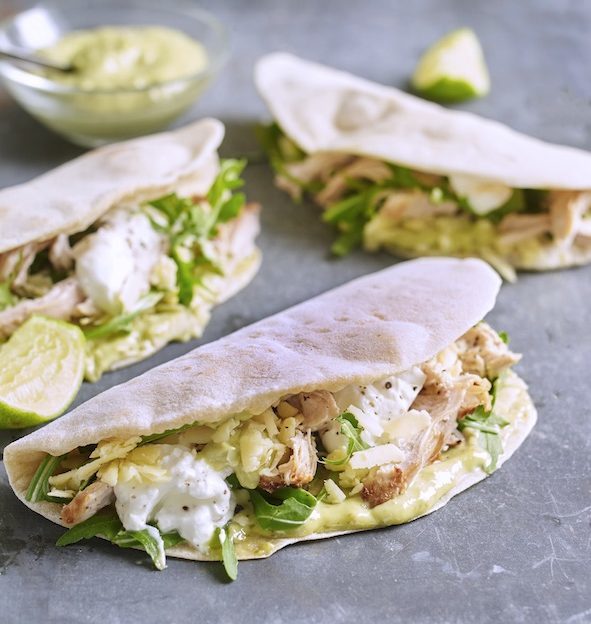 For the Piadina
250g plain flour
1 tsp baking powder
¾ tsp salt
2 tbsp olive oil
65ml warm milk
65ml warm water
For the topping
3 tbsp mayonnaise
¼ jar Sacla' Classic Basil Pesto
Handful of rocket leaves
25g Cheddar, grated
200g cooked chicken breast, shredded into long thin strips
1 tbsp Greek yoghurt
Half a lime
Rachel Allen teams up with Sacla' to bring you these delicious Piadinas 
Method:
Sift the flour, baking powder and salt into a mixing bowl. Add the olive oil and mix until evenly crumbly.
Make a well in the centre and pour in the warm milk and water. Mix with your hands (or with a wooden spoon) until the dough become soft, but not sticky.
Turn the dough out onto a clean work surface and knead for 5-7 minutes until it is soft and smooth.
Divide into 6 pieces, each about 60g in weight. Roll each piece into a ball and place the balls on a flour-dusted surface.
Cover with a damp tea towel or cling film for 30 minutes, or they can go into the fridge overnight.
When you're ready to cook the piadine, heat a frying pan or grill pan over a medium-high heat. Working with one ball at a time, roll the dough into a disc approximately 12cm/4½in in diameter and about 2mm thick.
Gently place the dough into the hot pan – no oil is needed. Cook each piadina over a medium heat for 2-3 minutes on each side, until lightly golden but still pliable, then wrap in a clean tea towel immediately to trap the steam and prevent the piadina from getting brittle while cooling. Repeat with the remaining balls of dough.
When you've cooked all of them, the fun really starts! Mix the mayonnaise with the Basil Pesto in a bowl. Place each piadina on a plate or worktop and spread half the surface with the Basil mayonnaise.
Arrange rocket leaves on top then scatter each with grated cheese, shredded chicken and a dollop of yoghurt followed by a squeeze of lime juice. Fold in half and tuck in!