Fusilli with Tomato Pesto, Chorizo and Rosemary
---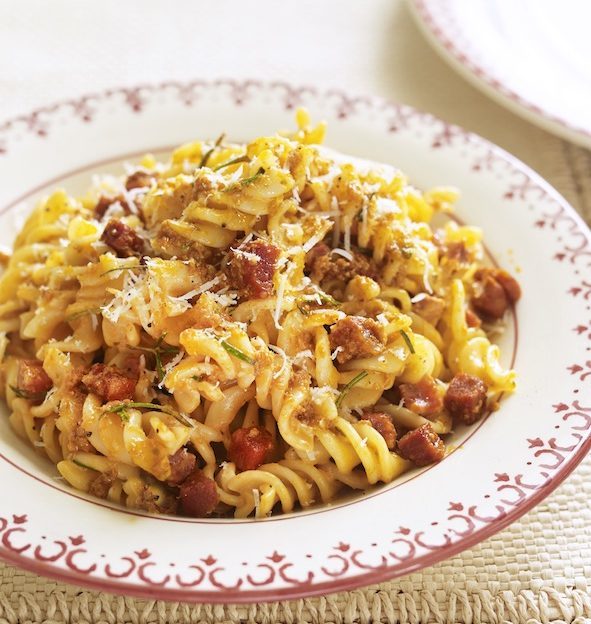 400g fusilli pasta
150g chorizo, skinned and cut into 1cm cubes
1 tbsp olive oil
200ml double cream
½ jar Sacla' Sun-Dried Tomato Pesto
1 tbsp fresh rosemary, finely chopped
Salt and pepper
Sacla
Rachel Allen teams up with Sacla' to bring this delightful dish to "Friend" Readers.
Method:
Bring a large pan of water to a rolling boil. Add the pasta, return to the boil and cook for about 8 minutes or until cooked to your liking.
While the pasta is cooking, put the chorizo in a cool pan with the olive oil, then place on a low-to-medium heat and cook for just a couple of minutes until the chorizo starts to look shiny and oily. Don't brown the chorizo as it can burn easily, just soften it.
Add the cream, Tomato Pesto, chopped rosemary and the grated Parmesan, mixing well. Bring to the boil, and cook for a couple of minutes until it's all blended together beautifully. Season to taste.
Drain the pasta but reserve 150ml/5floz of the cooking water as this is very useful for adding to the pasta sauce if it becomes too thick, or stirring into the pasta itself if you're waiting for the sauce to cook and the pasta starts to stick.
Finally, combine the pasta and sauce over a medium heat and stir gently, adding some pasta cooking water if it needs loosening. Serve with extra Parmesan cheese sprinkled over the top.