Vegan Heirloom Tomato Tart With a Walnut Base
---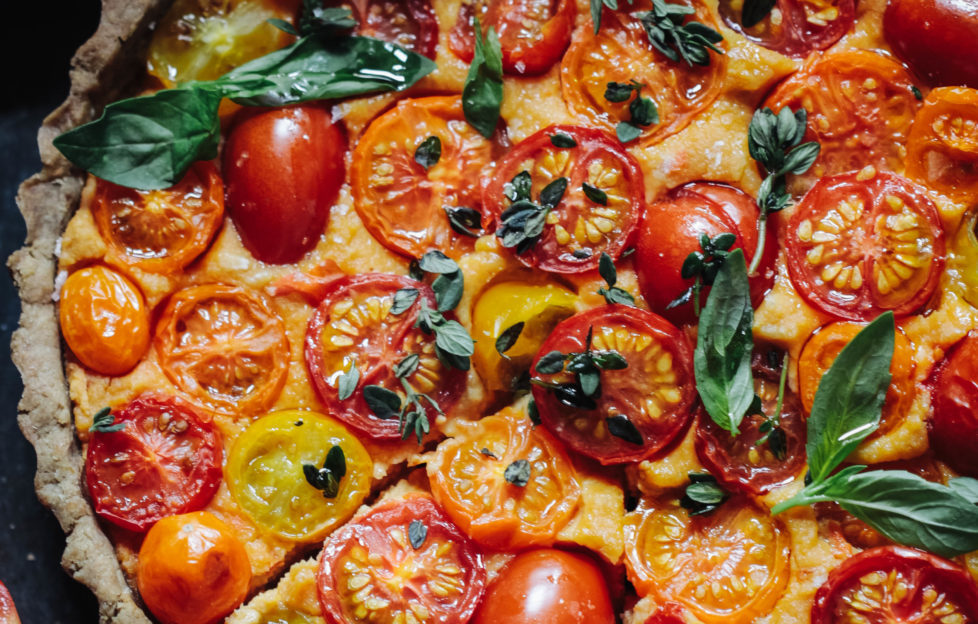 For the pastry
2 tbsp ground flaxseed
4 tbsp filtered water
1/2 cups Walnut meal - ground in a mini chopper/blender or grinder 
1 cup gluten free oat flour
1/2 cup buckwheat flour 
3/4 tsp sea salt
1/2 tsp garlic powder
1 1/2 tbsp olive oil
3 tbsp almond milk 
For the filling
1 cup cashews (soaked for at least 1 hour)
¼ cup water
3 tbsp nutritional yeast
2 tbsp lemon juice
1 tsp garlic powder
1 tbs. dijon mustard
4 cherry tomatoes sliced
1/2 can Chickpeas drained 
1 tsp sea salt 
Perfect for summer picnics or a light lunch this Heirloom Tomato Tart With a Walnut Base will satisfy all appetites.
Firstly make the Walnut meal by adding the nuts to a mini chopper or blender and blitzing until you get a fine meal.
Make the 'flax egg' by mixing the ground flax and water in a bowl – set aside to thicken.
Grease a round loose bottom pie pan with oil.
Add all the dry ingredients to a large bowl and mix to combine. Then add in the oil, almond milk and flax egg. Mix thoroughly to form a dough.
Transfer the dough to the tart pan and use your fingers to press into the bottom and up the sides. Poke a few holes with a fork across the bottom.
Bake for 10 minutes on Gas mark 4 for 10 minutes. Remove from the oven.
Layer the filling mix across the bottom of the tart then add in the tomatoes. Press in a little.
Drizzle with a little olive oil and sprinkle of sea salt
Return to the oven and bake for 30 minutes. Allow to cool before removing the pan.
Allow to cool and then sprinkle on fresh basil & oregano.