Kev's Lamb Keema
---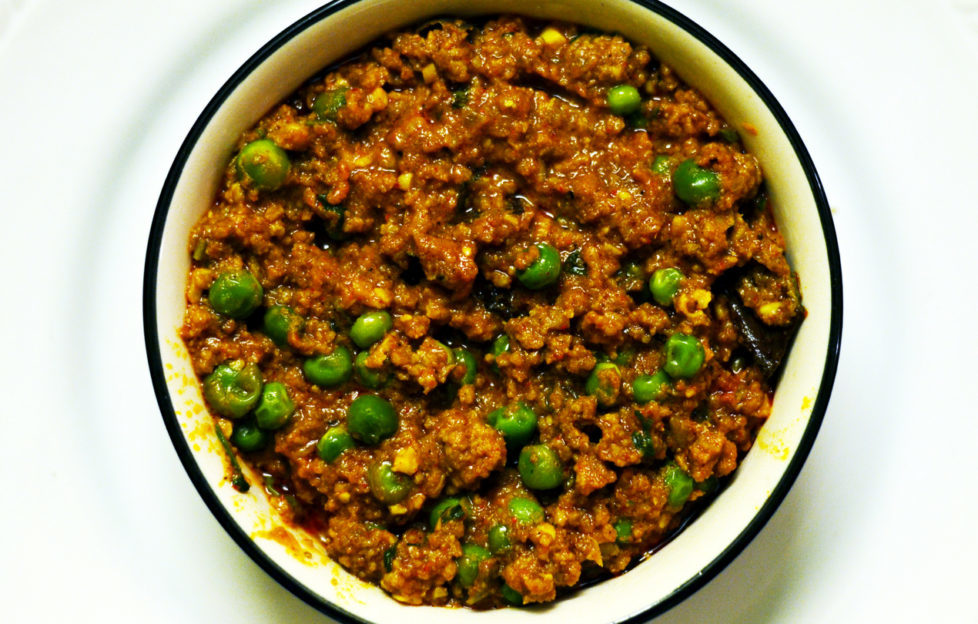 1 onion
2 garlic cloves
4cm Ginger
2 red chillies
1 pack of lamb mince
2 tbsp garam masala
1 tsp turmeric
1 can chopped tomatoes
1 small pack frozen peas
A friend's invitation to dinner has turned into a family staple.
There's no better time than National Curry Week to pull out this recipe for Lamb Keema. Last New Year's Eve we were invited to RP's friend's house for a soiree. Poppy was still young, so we weren't staying out too late anywhere and the invitation was a nice way to celebrate the New Year, and be there for our pup too.
On arrival, the aromas from the kitchen warmly greeted us before the hosts. Yum! The fragrant spicy air was warming and welcoming on that cold night. An Indian feast was the order of the evening, and we settled down friendly chatter and a delight for our taste buds.
The menu was simple but abundant and packed full of flavour. Roasted aubergines and yogurt dressing, Lamb Keema, Lentil Dhal, Naan, and Rice. It was my first ever Lamb Keema, I'd often seen in on menus but had never been inclined to order it. Always far too tempted by Prawn masalas, chicken jalfrezis, and onion bhajis. Did I mention a love for potato-based curries? Firm vegetables in a spicy coating, robust and warming. Yum.
Lamb Keema stole the show. The combination of lamb mince and peas, in a deliciously spicy sauce, was new to me, and I was hooked. Several weeks later I searched for the recipe, I must have this in our lives again. We call it Kev's Curry because that was where we first tasted it, not because we follow his recipe. (Although we have passed on that it's a firm family favourite!)
Pop all the spices and chillies into the food processor and fry in a little oil
Fry the onion and set aside
Fry the mince until browned then add in the onion, spices and stir.
Add the can of tomatoes and stir, cook for 30 mins, stirring occasionally
Add in the peas, and cook for 2 minutes
Serve with chopped fresh coriander, rice and naan.