Mr Fiction Ed's Courgette Carbonara
---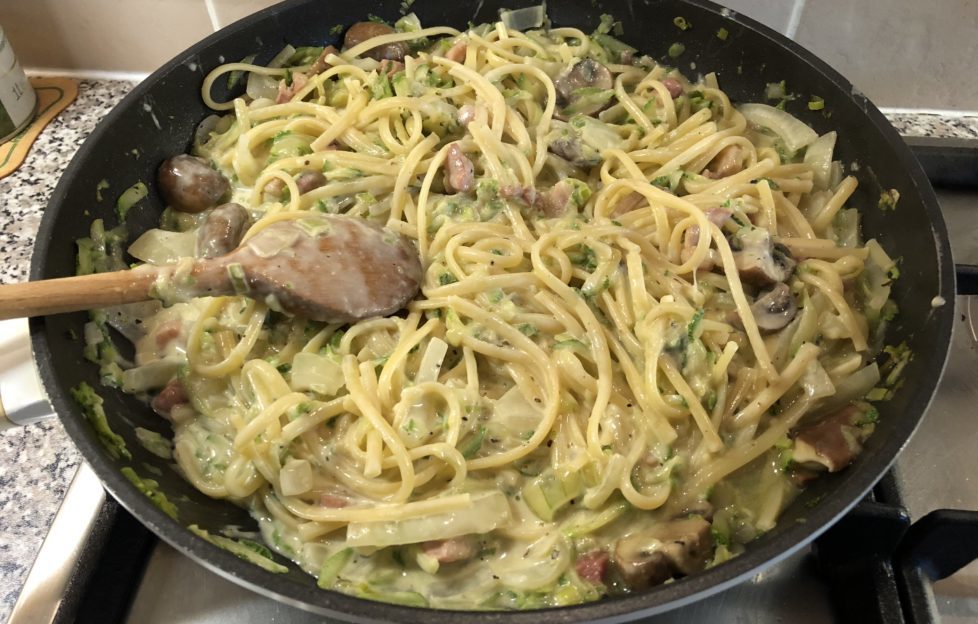 Photo: Shirley Blair
70g pack pancetta
2 medium courgettes, grated
1-3 garlic cloves, crushed
1 onion, finely chopped
Two or three mushrooms, quartered
1 egg yolk
5 tbsp single cream
30 g grated Parmesan
150 g fettucine
Black pepper to taste
You'll be getting to know Mr Fiction Ed and his green fingers by now.
Remember how he adopted Sarah's courgette plant? It's coming along nicely, by the way – I'll try to remember to take a photograph.
But he already had three courgette plants in our plot and they're having a very good year. We've had at least fifteen so far.
I bake bread every week, and my bread recipe book has a delicious recipe for a Courgette Country Grain loaf. So that uses up one a week – what about the rest? Tuesday is risotto night, so one or two of the wee tender ones get sliced into that in season.
We'll let a couple grow to marrow size so we can make Marrow And Goat's Cheese Lasagne, which is delicious. But this is another favourite dish that takes two normal size courgettes. It's his spin on a sort of Courgette Carbonara. Serves two.
Method
In a dry non-stick frying pan, fry the pancetta until crisp and golden. You won't need oil or fat – enough comes out of the pancetta. Add the onion, and fry till clear, and the mushroom until lightly cooked. You can add a smidge of veg oil if you think it needs it.
Add the courgette and garlic and cook until the courgette is softened. This all takes about ten minutes.
In a bowl whisk the egg yolk, cream and Parmesan and season with pepper.
Cook the pasta according to pack instructions, then use tongs to lift it out of the water into the frying pan and stir it into the courgette mix. Don't worry about draining it – you'll want some water to come with it.
Once it's all tossed together, take it off the heat and stir in the egg and cream mixture, adding 2-3 tablespoons of the pasta water.
Serve and enjoy!
PS We've always meant to try it with crème fraiche instead of single cream. That should work too, shouldn't it?