Gifts From the Garden
---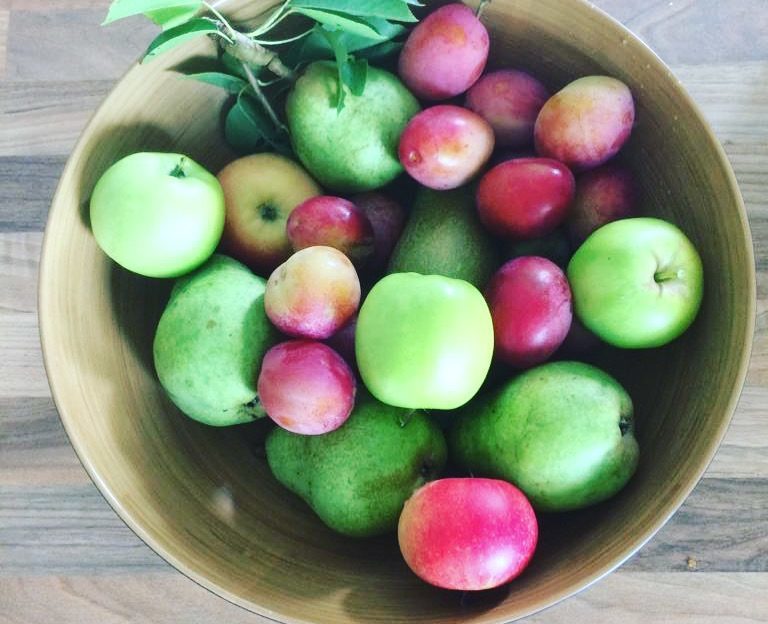 Our garden brings treasures from the fruit trees growing there
When I was younger, the pathway to the garden was a game called dodge the smashed pear carcasses that had fallen from the fruit tree branches.
Autumn brought conkers, which were so much more fun than pears.  We climbed trees at the local parks to get our bounty and would spend ages whittling holes into the nuts. The pears lay discarded and it didn't bother us much. Now I'm all grown up I'm in love with our garden and the bounty it provides. I can honestly say I would ignore a conker for a pear these days.
Now, if you can cast your mind back to our house guests who planted herbs and lavender bushes, you'll know that I have a steady supply of herbs at my disposal. Roast potatoes with rosemary? Yum!
But it turns out the sweetest treasures were yet to be revealed, in the form of apples, pears, and plums from our trees!
Fruit trees in the garden
We decided when we moved in that we would give the garden a full year before we changed anything, the trees were top of our list. To give you a little background on our trees, we have four of them, and they are around 9 ft in height. Many times we have sat enjoying the garden deciding whether or not to remove the trees. Did they take up too much garden area? Would they grow too tall in the future and block the sun? what did we need trees for anyway?
Then, my cousin and her partner were visiting from Wales, and a farmer by trade, her partner inspected our garden. "What wonderful trees you have!" he exclaimed, "Oh they're odd", we said, " We can't work out if the apples are edible or not, we might not keep them", his look of horror spoke volumes. He went on to tell us that the trees had been crafted from three trees into one tree with three different types of apples. Our pear tree would provide 2 different types of pear.
Our fruit trees were a treasure trove
We were astounded, we didn't even know this was a thing! I took this as my lead to not reveal I'd thought the plum trees were, in turn, olive trees or cherry trees. The strange little green buds and lack of blossom had been confusing me for months.
Since then, we've been waiting patiently for the fruit to ripen, being watchful of the pears that are causing the branches to droop with their weight. Then, this weekend we dared to try the fruit and I am happy to report the plums are the sweetest, the apples are delicious and the pears are plump and juicy!
I'm even happier to report we have an abundant amount, so will be making chutneys, jams and crumbles galore!