Veggie Bolognese
---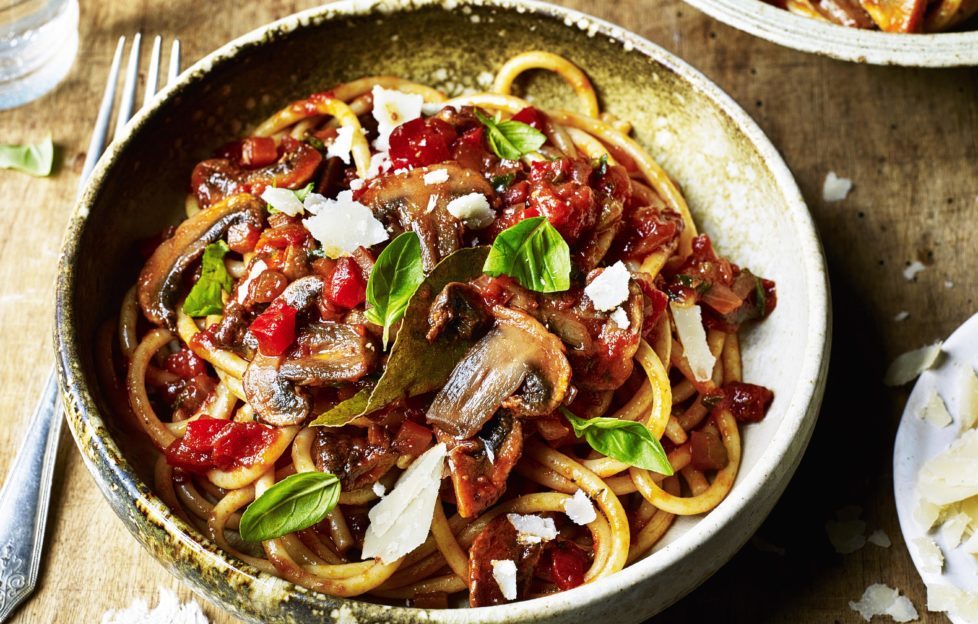 100g chestnut mushrooms, roughly chopped
100g button mushrooms, sliced
1 onion, finely chopped
2 garlic cloves, finely chopped
2 tbsp olive oil
1 small carrot, finely chopped
1 celery stalk, finely chopped
1 red pepper, finely chopped
100ml red wine
1 tin of chopped tomatoes
100ml vegetable stock
2 thyme sprigs, chopped
10g basil, stalks and leaves
2 bay leaves
1tsp tomato puree
This veggie bolognese is perfect for an Autumn evening, serve with spaghetti or penne, grated parmesan, and crusty garlic ciabatta – Bellissima!
In a large saucepan, heat the oil and saute the onion, garlic, carrot and celery for about 5 minutes until soft. Now add the mushrooms, pepper, thyme, basil stalks and bay leaves. Continue cooking for a further 5 minutes.
Pour in the red wine, stock and tinned tomatoes. Season with salt and milled pepper to taste and simmer for 15-20 minutes.
When ready add chopped fresh basil and serve with freshly cooked spaghetti and a grating of parmesan cheese.