Monday Night Roast Chicken Stir-fry
---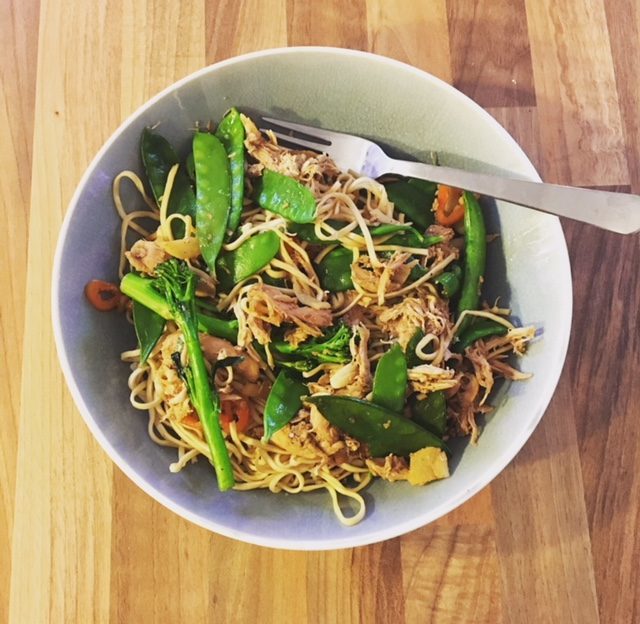 2-3 cloves of garlic
1-2 red chillies
2cm piece fresh ginger
1 pack Mange tout
1 small roast chicken
1 pack egg noodles
soy sauce
1 pack long stem broccoli
We created this recipe on a Monday night when we decided to throw caution to the wind and put the leftover roast chicken into a stir-fry. It was an instant hit, faces were full, tummies too, the Roast Chicken Stir-fry was born and we have never looked back.
The strips of cooked chicken grabbed the noodles in a way we had never experienced, and they soaked up the sauce in a way that was new for us too. You may think we live a sheltered life, but sometimes we don't even have a roast the day before, it goes straight to the stir-fry. Now that's living!
Method
Strip the roast chicken of meat and place into a bowl, making sure no skin or small bones are included.
Put a pot of water on to boil
Peel and chop garlic, chilli, and ginger
Place noodles in the water to cook for 2-3 minutes. Drain
Place garlic, chilli, and ginger into a wok with a little rapeseed oil. Fry for a minute or so.
Add the roast chicken and stir-fry for a further minute
Add the mange tout, broccoli and soy sauce to taste. Let the steam soften the vegetables, then add the noodles and stir well.
Add salt and pepper and more soy sauce to taste. Stir to steam for another minute.
Serve into a bowl and enjoy!