Socca -The Original Street Food Of Nice
---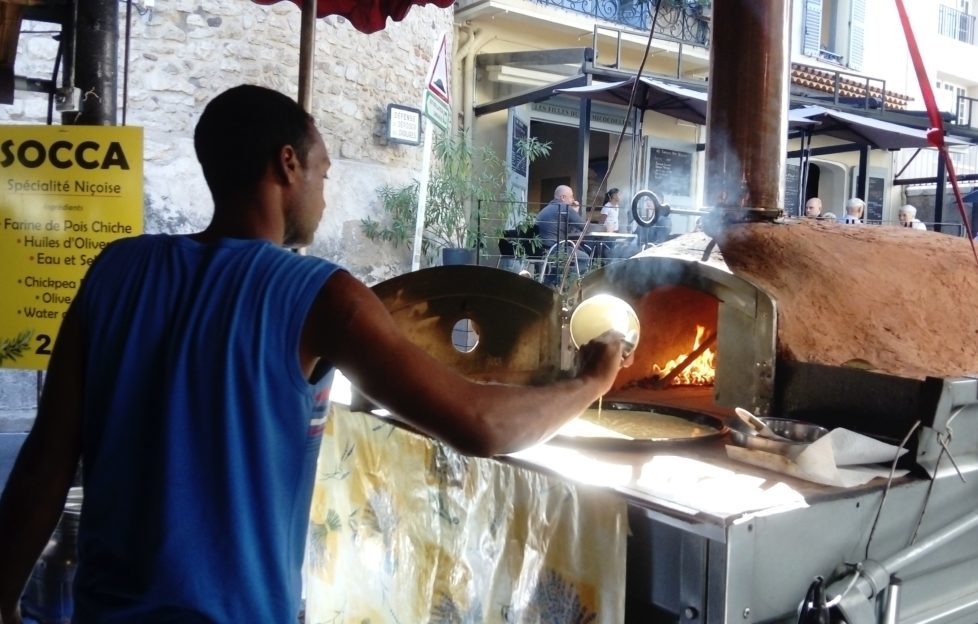 Have you ever eaten socca? Do you know what it is?
As I discovered on a recent holiday on the beautiful Cote d'Azur in the South of France, socca is the original street food of Nice and the surrounding area.
Socca is a cross between a pancake and a flatbread. It's made with chickpea flour, water and olive oil and is baked in a hot oven till golden. At food markets along the coast, you'll see stalls selling socca straight from the oven. Every one has a queue of customers lining up to sample its wares.
How to make Socca
Huge shallow pans are lifted out of the flames, and the socca is cut into triangles. Each one is then deftly flipped on to a sheet of foil, cut into bite-sized pieces and sprinkled with black pepper. That's it – ready to eat and completely delicious. And all for around just two euros per portion. A bargain!
The picture above was taken at the fantastic daily food market in Antibes and shows the socca batter being ladled into the pan. It was then baked in the blazing wood oven. The temperature was around 26 degrees C that day, so it was hot work for the cook.
Socca is a healthy and nutritious food, and it's also vegetarian and gluten-free. If you'd like to try making it yourself, you'll find a Socca recipe by clicking here.
Some recipes suggest adding extra ingredients and toppings, but the traditional way is as described above, with no more than a seasoning of salt and pepper.