Pets As Therapy
---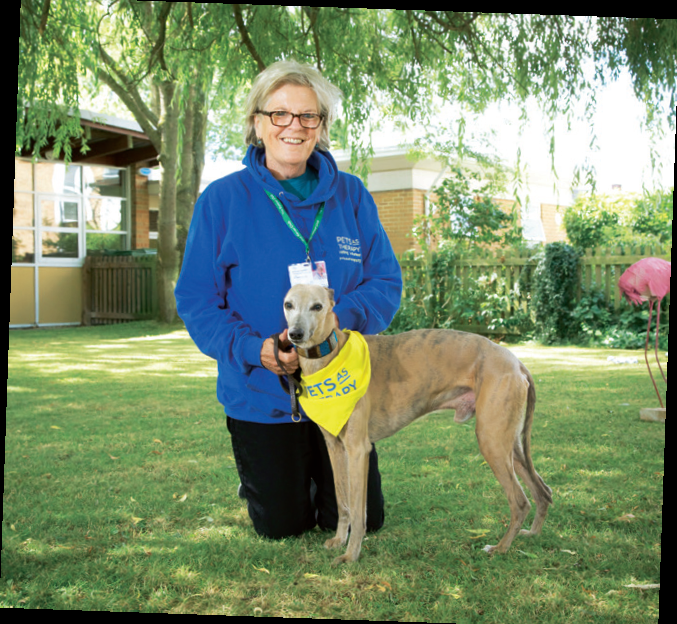 Anne with Cesc.
Earlier this year, we began a series in the magazine featuring the amazing work of Pets As Therapy a national charity founded in 1983, enhancing the health and well-being in the community through visits of trusted volunteers with their behaviourally assessed animals.
Homing in on new volunteer Emma and her dog, Hansie, we'll follow their journey on becoming PAT volunteers, the people they meet along the way and we'll also hear from a few other volunteers and their PAT pets.
Pets As Therapy  provide a visiting service in hospitals, hospices, nursing and care homes, special needs schools and a variety of other venues all across the UK.
Their therapeutic visits:
Enhance lives in our communities by providing companionship and friendship and helps to tackle loneliness.
Improve the lives of people suffering from debilitating mental and physical health conditions and illnesses such as Autism, Dementia and Stroke by including animal assisted interventions as part of a holistic approach to treatment.
Improve literacy in children by developing their confidence, interest and enjoyment in reading through our read2dogs scheme.
We're big fans of Pets As Therapy's work and hope you enjoy reading about them and Emma & Hansie's journey.
Check back in on this page regularly for updates on what's been going on and don't miss their monthly appearances in the magazine. We'll keep you posted here about when the next instalment is coming up!
Subscribe to The People's Friend and we'll donate £5 to Pets As Therapy, click here!