PAT Team Work
---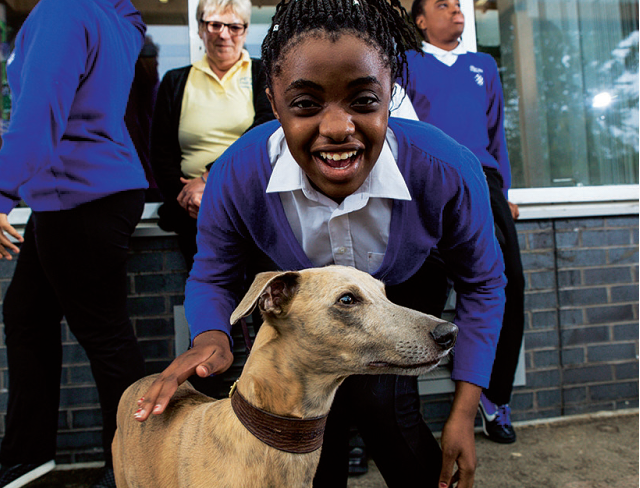 Cesc visits a local school.
Anne Clilverd started volunteering for Pets As Therapy in 2010, when she was about to retire from a career as a mental health nurse and narrative therapist.
"I had already seen the impact my two dogs had on people I worked with," she says.
"A client told me what he loved most about the dogs was that they had no idea he'd a mental illness, and accepted him for who he was."
Cesc, a 10-year-old whippet, is Anne's PAT Dog today.
"He's worked alongside my local CAMHS service with children who have a phobia about dogs, and he now visits a primary school as part of the Read2Dogs scheme.
"As a whippet, Cesc is ideal for a nervous child. The breed is quiet and calm, and, like greyhounds, they have a very soft and warm coat."
Being Chair of the Board, Anne is keen that every community has a PAT Team.
"Our companion animals can bring such joy and comfort to people who are having a tough time," she says.
"Understanding that power is what drives my passion. I want to support all our volunteers, and recruit many more to continue this invaluable work."
Catch up with other articles from our Pets As Therapy series here.