Pets As Therapy: Hansie Visits Marston Court
---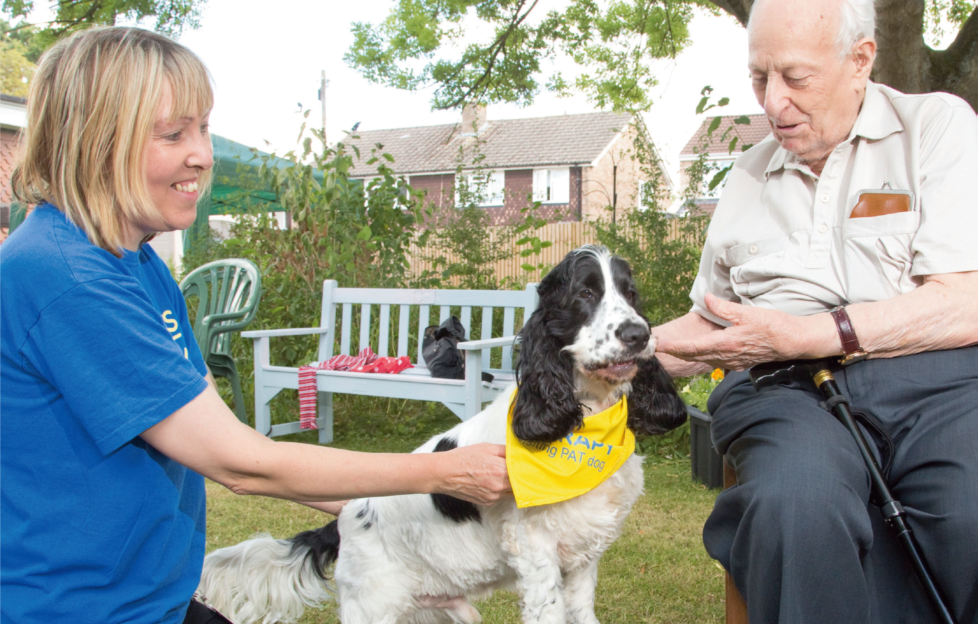 Emma and Hansie visiting a resident of Marston Court.
Regular readers of "The People's Friend" will be familiar with the story of Emma Tyreman, a mum of three from Oxford who volunteers for Pets As Therapy (PAT).
For the past six months, we've been learning about Emma's involvement with the charity, and about the people and places she visits with her cocker spaniel, Hansie. Click here for a recap.
Marston Court
This month, we join Emma and Hansie again as they visit Marston Court. This Oxford care home is dedicated to providing quality care for older people and adults diagnosed with dementia or a physical disability.
According to Emma, one of Hansie's biggest fans there is a seventy-nine year-old lady who attends the day centre twice a week.
"Catherine Jefferies is especially fond of Hansie," she says. "We regularly visit Marston Court on a Monday morning, and when Catherine hears my voice and realises Hansie is around, her face lights up."
Catherine lost her sight two years ago, and Emma has been keen to find out what she and Hansie could do to make their encounters more rewarding.
As Emma also volunteers with the Oxfordshire Association For The Blind (OAB), she knew exactly who to ask for advice.
Search and sniff
"Nathan Tree is the client services advisor at OAB."
"He was the ideal person to give me some extra tips on what I could do when Hansie and I spend time with Catherine. Nathan has a guide dog called Maisie, and after talking to him and listening to his experiences, it was clear that all that was needed was patience."
"He also suggested that Catherine and Hansie play some search and sniff games. Learning to trust one another was the key."
With that in mind, Emma brought a satsuma along to her next visit and suggested that Catherine shared it with Hansie.
"He loves fruit and veg. We'll often sit together and share a satsuma in the afternoon.
"It was lovely to see Catherine enjoy some fruit with Hansie, though I think he ate most of it.
"She also played a search and sniff game, hiding a piece of kibble in one of her hands and encouraging Hansie to find it. They had a wonderful time."
Catherine agrees the game was great fun.
"Hansie is such a lovely dog. I look forward to his visits to Marston Court on a Monday. He's a breath of fresh air."
Everyone is smitten
We then hear from some of the other residents.
"He does love his treats," Sarah Stone announces.
"Hansie is such a friendly little dog," Sheila Brinkworth chimes in.
Indeed, it would appear that everyone who gets the chance to meet Hansie at Marston Court is smitten.
Gemma Thacke, a carer at the home, believes Hansie makes a real difference to people's lives
"It's really nice that Hansie comes to visit. If you've had a pet in your life and you're not able to have one any more, it must be so hard."
"Yes, Hansie brings some normality into the care home," Sandra Morris, who visits family, adds. "All the residents are always excited to see him.
"I know my family here all love Hansie very much."
For more charitable stories, visit our Helping Others pages.